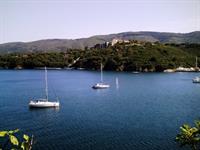 Combined Sailing and Walking Holiday in Elba
Sailing in Italy offers the unique opportunity to discover the Island of Elba just off the Tuscan mainland in a totally different way by combining sailing and walking. You start your holiday from the company's base at Puntone di Scarlino in the Bay of Follonica near Punta Ala, one of the prime sailing areas in Italy. From here Elba can be reached within 3 hours. On your first day you sail to the anchorage at Cavo where you spend the evening on the boat with swimming, snorkelling, relaxing or whatever you like to do before you start on your first walk the following day taking you from Cavo to Porto Azzuro where you are picked up again by the yacht. The next day features a walk around Porto Azzuro on the hills around the beach of Naregno. The fourth day is a relaxing sailing day to the Bay of Lacona one of the most beautiful beaches around Elba.
Back into your walking boots on the fifth day from Lacona to Marina di Campo where again the yacht is waiting for you. This is followed by another day at sea, sailing from Marina di Campo to Sant'Andrea in the north west of the island. The seventh and eighth days give you the opportunity to explore the north part of Elba on foot walking from Sant'Andrea to Marciana Marina on the first day and from Procchino to Biodola on the second day. Again the yacht is waiting for you at Marcina Marina and at Biodola. The following day is a sailing day to the Bay of Portoferraio where you spend the evening. You are dropped off the next day at Maggazzini to complete your circuit at Cavo from where you are sailing back to Puntone di Scarlino.
This walking and sailing holiday is the perfect way to experience Elba off the beaten track and to develop new skills or even find or grow your love for sailing. Guests can participate in the sailing or just sit back and relax. All meals can be prepared on board or you can dine ashore as part of the exclusive marina life style. Each trip is different and tailored to make a dream come true. A skipper and hostess are looking after you throughout your holiday making sure this holiday is one in a lifetime.
The price in the high season based on 4 people sharing 2 double cabins is Eur 1450 per person. This includes private yacht charter with the services of a skipper and hostess, bed linen and towels, Italian style breakfast, snack lunches or lunch packs, diesel and final cleaning of the yacht. Sailing in Italy also offers sailing trips starting from 1 day excursions to multiple week trips all around the Mediterranean
Visit the Sailing in Italy (UK) listing
.