Charter Quote Finder
We'll find the best quotes for your exact requirements:

Neighbouring Areas
Tortola
Some photographs of St John: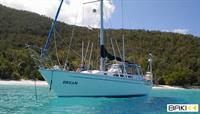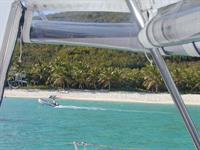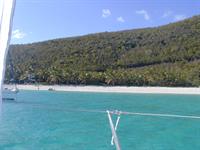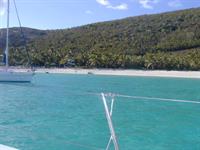 St John US Virgin Islands yacht charter
Caribbean Cruising Club
We have been sailing the BVI (British Virgin Islands) and US Virgin Islands over 20 years. The alternative to the high cost of sailboat charters in the Caribbean. Ragamu...
Royalty Yachts
Royalty Yachts provide fully crewed private yacht charters from a worldwide selection of inspected and hand-picked luxury yachts. Royalty Yachts guarantee that your ultim...
Slip Aweigh Yacht Charters
Call us for the fasttrack to your dream vacation in the world famous Virgin Islands. Specializing in Customized Sailboat, Catamaran and Powerboat charters with profess...
Soul of the Caribbean Sailing Company
Welcome to our Virgin Islands Sailing Adventure! Aboard Caribbean Soul you may set your own course, design your own itinerary, relax in comfort and just enjoy life. O...
Caribbean Soul Charters
Caribbean Soul Charters offers luxury crewed yacht charters in the glorious Virgin Islands aboard luxury monohulls, catamarans, and motor yachts. On a crewed charter, you...
SY Billy Jean
Caribbean sailing vacations on the affordable owner operated crewed charter yacht Billy Jean, the unique Caribbean cruise in the Virgin Islands for up to 5 guests, starti...
Tropicalboat Charters
Tropicalboat Charters was established in 2004. Since the company's inception we have had a privilege of serving over 9,000 customers and take great pride in working with...
Carefree Yacht Charters
Our specialty is arranging extraordinary Caribbean yacht charters for our clients. These private boat vacations are surprisingly affordable and make an ideal getaway for...
Flame
Flame is a classic motor yacht built by Feadship in 1956. She was completely refit in 1995 and now offers luxury term charters in the US and British Virgin Islands. Owner...
MY Cinnamon Bay
Offering private and public Virgin Island yacht charters based out of Great Cruz Bay, St. John. We specialize in caribbean day sails/daytrips, BVI Excursions, sunset cr...
All Inclusive Charter
Low Key Watersports
Experience St. John and Low Key Watersports with their friendly staff. Leave the diving to us! After all,...it's what we do best! Located on the water just steps from...
NSS Pattam
You can explore the US Virgin Islands, British Virgin Islands, Spanish Virgin Islands in comfort. We are based in the Virgin Islands and can pick you up and deliver yo...
Virgin Islands Charter Yachts
We specailize in both crewed and bareboat charter yachts in the US and British Virgin Islands. Other brokers profess to be experts at the whole world - WE SPECAILIZE in t...
Bajor Yacht Charters
Based in St Thomas, US Virgin Islands, Bajor Yacht Charters is a charter yacht brokerage with worldwide reach and with a particular specialization in Caribbean and Medite...
Nightwind Yacht Charters
Daysail aboard Yacht Nightwind and snorkel at two great spots on St. John or smaller islands. We have been day sailing from St. Thomas since 1977. Just bring an appeti...
Outlaw
Sail farther and faster with Paul and Vicki on St John's largest and most comfortable charter yacht Outlaw. Let us introduce you to a level of sailing that you have neve...
Qwest Charters
Aboard Qwest, the real world disappears as you sail from island to island. With plenty of toys and an endless selection of beautiful harbors in the Virgin Islands, you ca...
Blue Tang Yacht Charters
What's more beautiful than the Virgin Islands? The waters that surround them. Come aboard the Blue Tang and experience a day of luxury and adventure. Island-hop with our...
CharterBase
CharterBase offers the finest selection of over 700 luxury crewed yacht charters available worldwide. Each of our yachts are fully catered and crewed by professionals who...
Dolphin Water Taxi
Island Time Yacht Charters
Providing the finest all-inclusive Caribbean crewed yacht charters in the Virgin Islands. Relax, explore, scuba or honeymoon on a sailboat, catamaran or power yacht.
Sail With Captain Max
Join the famous Captain Max on the S/V "Lou" for an unforgetable day of sailing, snorkeling and fun on St. John and the surrounding islands. S/V "Lou" sails with a maximu...
Sea More Charters
Explore a secluded beach or party at beach bars. • Want to snorkel? We have gear and we'll teach you how. • Relax onboard or float in the water and get some sun. ...
St John Sailing Charters
Sailing from St. John in the Virgin Islands aboard Survivan a beautiful 46' Jeanneau sloop.
Book It VI
Dream Sailboat Charters
Sailing Charters in the Caribbean Luxury Caribbean crewed sailboat vacations on private yachts.
Star Charters (USVI)
Cimarron Yacht Charters
Copeland Boat Charters
Go With The Flow Yacht Charters
A Virgin Islands Yacht Charter company providing USVI and BVI Yacht Charter vacations. From the crew to the food, we will make this an easy, fun, and memorable experience...
Sojourn Sailing