Charter Quote Finder
We'll find the best quotes for your exact requirements:


Some photographs of New York: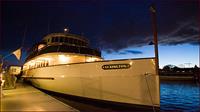 New York United States yacht charter
Ocean Limo
Executive Meetings Why leave your most valuable clients anywhere but in the best of hands? We provide a luxurious, stress free environment perfect for exclusive private...
Bareboat Sailing Charters Newport
We offer 15 sailboats: Bareboat... Beneteau 42's, Jeanneau 45's, Beneteau 46's and Jeanneau 49' Deck Salons . Skippered... Beneteau 50', Jeanneau 54' Deck Sal...
12 Meter Charters
Set sail aboard the famous America's Cup 12 Meter Yachts of Newport, Rhode Island! 12 Meter Charters, located in beautiful Newport, Rhode Island, plans sailing events...
AlphaK9
This new fully ocean-equipped yacht is destine for the Great Lakes in Northern America or in NE USA in mid 2008, where the company, AlphaK9, wishes to place it with a Ch...
Atlantic Sail and Charter
Summer sailing aboard classic vessels in New York waters, and off-the-beaten-path winter charters in the Bahamian out-islands, is what this company is about... If you...
Bareboat Sailing Charters
Bareboat Sailing Charters of Newport, RI.. offer charter sailboats from 40' to 49' and (2) new 2016 Beneteau Oceanis 45's with (4)+ cabins.. Bareboat or Skippered charter...
Bruce Tait & Associates
Bruce Tait & Associates has been in the business of Yacht Brokerage, Yacht Charters and Yacht Management since 1980. We are located in the historic sailing port of Sag Ha...
Lady of the Sea Charters
Experience the sophisticated elegance of a private motor yacht. Cruise in luxurious surroundings to your chosen destination. Whether you want a spectacular view from the...
Northrop and Johnson Yacht Charters
We have over 40 years experience in arranging seamless yacht charters for our clients. Our knowledge of charter yachts, crews, destinations and custom cruising itinerarie...
Prestige Yacht Charters
We represent the finest dinner boats & yachts as well more casual party boats and sailboats. A New York Harbor yacht cruise is perfect for corporate events, a birthday pa...
Raindance Charters
Salmon, Trout and Bass fishing on Lake Ontario. Homeport: Fair Haven, N.Y. All equipment provided. We are USCG Licensed. First Mate always on board. C'mon aboard and l...
Turn Key Boating
Serving Sag Harbor in "The Hamptons" New York in the summer and from Palm Beach to Miami Beach in the Winter. High End Luxury Yacht Charters form 34 to 62 feet. No...
Valiant Yacht Charters
Valiant, a 97' luxury motor yacht, is the perfect venue for entertaining. Docked in historic Mystic, CT, Valiant accommodates up to 80 guests in comfort and style. Romant...
Windridge Yacht Charters
4 Hour luxury charters for your next event, professional staff and 4 star chefs. Specializing in luxury yacht charters providing the ultimate venue for your most impor...
Atlantic Yachting NYC
We've been sailing the world for many years, and the waters around Manhattan for the last four. We know exactly how to provide a luxury sailing experience you won't forge...
Carefree Lifestyle
Private Yacht for private charters, weddings, birthday, corporate Event and more. A wide variety of Luxurious yachts available in Miami Beach, New York and Los Angelos
Harborside Marine
Step back in time and board our Classic Schooner for a memorable sail in the world's most famous Harbor. Informal and inexpensive it will rejuvenate your spirit. On de...
Mariner III
Chartering a yacht is probably the most unique and memorable way to host any type of event. In the charter business since 1984, the Mariner III pioneered this type of onb...
Nigel Burgess Ltd
Over the last 25 years Nigel Burgess has built an enviable reputation for impeccable service and meticulous attention to detail. Our commitment to a distinctive style and...
Sail Caribbean
We're proud to be celebrating our 31st year this summer! Sail Caribbean has been an amazing part of my life over all these years and I feel most fortunate to have been a...
Sail New York City
We offer private and excursion cruises in New York Harbor . Our modern motor yachts and classic sailboats are available for charter by individuals and corporations. T...
Sakonnet Charters Crewed Sail Vacations
Sakonnet Charters offers crewed charter sailing customized to your desires aboard a classic 49 foot Hinckley sailing ketch. Operating in the waters of New England in su...
Urban Desire Cruises
Private yacht charters and Dinner Cruises in New York and California. Home port to the Motoryacht "Urban Desire" for up to 6 guests. Other yachts available for part...
A Bacon Yacht Charter
Anniversary? Birthday? Private dinner? Client lunch? View the spectacular Manhattan skyline and the Statue from your own private yacht with crew.
Black Swan Sailing
Wonderful sailing cruises on the Hudson River near Saugerties, New York. Sail the Black Swan, a 36' Catalina Sailboat from May though October. Our Sailing Cruises allow y...
Halyard Enterprises
Sail the historic 1906 tall ship Mary E from Port Jefferson Village on Long Island's North Fork. Sailing daily through Peconic Bay and Gardiner's Bay.
Hamptons Yacht Charter
Long Island Cruises
The Largest fleet of over 40 Private Luxury New York Yachts, with capacity from 2-1,200 guests, available for Long Island Nautical Cruise Weddings, Commitment Ceremonies,...
North Star Charter LLC
Taste luxury and adventure aboard a charter yacht and enjoy the most enticing areas of the world on your terms. North Star Charter Yachts is a world-class luxury travel c...
Restless Native Charters
Craig and Pat Boorman welcome you to their floating resort for a sailing adventure in paradise you will not forget. Craig and Pat are native Floridians and have been a...
Romantica Yacht Charter
The yachts and boats of New York Yacht Charter are the most popular charter yachts and boats in New York.
Turn Key Charters
Luxury Yachts that let you "Experience the Hamptons" from a whole new perspective. Our yachts are just the right size for day trips for your family. Drop anchor at...
Yachts for All Seasons Inc
It was started in 1986. I am a member of the Better Business Bureau and the New York City Chamber of Commerce. There is no fee for my services and each charter is handled...
Amherst Marine Center
The Amherst Marine Center, a marina located on the Erie Canal, in Amherst, NY, near Niagara Falls and Buffalo, is now renting pontoon boats for cruising and camping on th...
Caliber Yacht Charters
Offering professional services to cater for weddings, vacations, etc. on luxury Yacht charter cruises in the New York and Tri City area.
Charter Sails
Come sail away aboard one of our beautiful, pristine vessels. We offer private, captained charters for 2 to 20 guests. Our premier location gives us access to a wide va...
Classic Harbor Line
Freeport Marine Supply
Manhattan Yacht Charters
Manhattan Yacht Charters bings to you over a decade of professional chartering experience, giving you the personal attention you deserve, and matching you with the approp...
Marco Polo Cruises
Marco Polo Cruises is New York City's premier charter yacht company. We provide private party boats and NYC charter yachts that can be chartered for any type of event and...
New York Boat Charter
"See New York in elegance and style afloat for any occasion" Cruise by Ellis Island, take pictures in front of the Statue of Liberty. See New York come alive with the gl...
NY Boat Charter
All Size Private Boat & Luxury Yacht Charters : From 2 to 1,200 people.
Sailboat Charter NY LLC
Welcome to Sail Boat Charter New York! Enter our world of private yachting and explore our exotic sail boat charter opportunities in NYC, Long Island and NJ. Our company...
The Other Woman Fishing Charters
The Other Woman is a 37 foot Silverton with a 14 foot beam. She is fully equipped for your pleasure, comfort and safety. You can find us at Oswego Marina for easy acces...
The Sagamore
Lake George offers a myriad of recreation options including Boating, Sailing, Water Skiing, Parasailing, Fishing, Swimming, A Private Beach & Marina, Kayak Lessons & Rent...
World Yacht
Better than most other New York restaurants, experience a romantic dinner cruise with spectacular views of New York at night. Charters, parties, groups, weddings, all oc...
Y Knot Sailing
Y-Knot was founded in 1996 by a small group of disabled sailors and friends who wanted to create an accessible sailing program in the greater New York State Capital regio...
Yacht Services International
Who charters with Yacht Services International? Everyone! who really wishes to make a special event truly memorable. We've hosted heads of state, celebrities, major...
American Princess
Let American Princess Cruises plan your next event aboard one of our finest vessels... American Princess Cruises provides the ultimate formal or casual cruising experi...
City Lights Cruises
Discover a whole new way to get out and enjoy city night life. Take any one of our three-hour cruises featuring full bar, DJ entertainment and dancing, and you'll be part...