Charter Quote Finder
We'll find the best quotes for your exact requirements:

Neighbouring Areas
Aegean
Some photographs of Mediterranean Sea: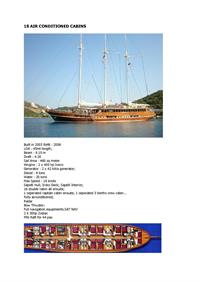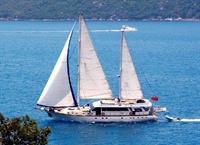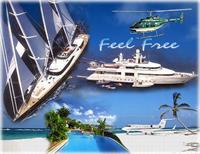 Mediterranean Sea Turkey yacht charter
eXclusive Gulets
We are a specialist yacht charter company organizing successful and popular gulet cruises on classical wooden sailing yachts, along the south-west coast of Turkey and the...
GuletBookers
Gulet Bookers is a fast growing business based in Bodrum - Turkey. Right in the heart of the gulet boating world! We are a young and energetic team who are committed to p...
Il Miglio Blue
Il Miglio Blue - offers skippered or bareboat charters by sailboat, catamaran, motorboat, or gulet in Sicily, Italy. Our bases are a short sail away from the Aeolian Isla...
Akotour Yachting & Sailing Agency
Akotour Yachting is a full service yacht charter agency established in 2002, located in Marmaris, which is the heart of both Aegean and Mediterrean Seas. Akotour has an e...
All in Cata cruising & Zeil events
Kalamazoo, our 47ft sailing-catamaran is waiting for you in the Bluewater cruising area of Turkey. From Marmaris to Kekova-street in the Aegean see She is always skipp...
Budget Sailing Turkey
Bareboat yacht charter and flotilla sailing holiday along the Turkish coast with Budget Sailing Turkey! Bareboat yacht charter and Flotilla sailing holidays in Gocek T...
Catch 22 Yachting
We operate Private Charter Cruises along the Mediterranean and Aegean Coast of Turkey. Our boat "Catch 22" is an 18 metre traditional style Turkish Yacht. Recently r...
Dames de la Mer
With your own skipper to guide you, experience the exhilaration and stunning horizons of the Mediterranean on one of our beautiful cruising yachts. For that once in a...
Grandi Marine Ltd
Grandi Yacht Works Ltd., is a boat building, refit, yacht charter and brokerage company, located in Bodrum, Turkey. Our experience covers the construction. Refit and r...
Libra Yachting
As Libra Tourism, we have been successfully serving our customers since 1991. In 2007 Yacht Chartering services was added. Our Bodrum branch would be pleased to assist yo...
MedSail Holidays AB
MedSail Holidays AB is a Swedish Yacht Charter Company in the Blue Cruise and Yacht Tourism Sector located in Stockholm, Sweden, specializing in private gulet, cabin char...
Ocean Marine Group
CharterSearch is a trading name for Ocean Marine Group and we are an independent yacht charter agency specialising in bareboat, skippered and fully crewed yacht charters....
Seal Luxury Yacht Charters
Are you looking for a special experience? We make it possible.Luxury Yacht Services.If you set value on highest quality,Seal Vip right choice for you.
Socio Tours
Socio tours is yacht management company in fethiye turkey owns 2 gulets 29 meters 7 cabins called blue pearl II and 18 meters 2 cabins called selena
Solada Gulet Yacht Charter
Board our Gulets and Enjoy our Services. We have always, and still do, given utmost attention to the maintenance, the meals, the cleanliness of our ships and the quali...
Styluss Yacht Holidays
Customized yacht charters in Turkey and Greek islands. Organizing one-of-a-kind holidays combining private yacht charter with adventure experiences, land excursions and a...
Wave Charters
Our aim at Wave Charters is to provide you with the very best yacht charter service that will meet your specific requirements. With high standards of service together...
Blue Adventures
Discover Mediterraneo of your dreams with us... Experience, kindness, comfort, style and passion for sea and dolce vita!
Blue Sun Yachts
We offer a wide range of sailing yachts, motor yachts, catamarans and gulets to hire in the Mediterranean (France, Spain, Balearic Islands, Italy, Croatia, Greece and Tur...
BookBareBoat
Bookbareboat is the address of budget yacht charters. Here you can access last minute and one way sailing offers of established operators from Turkey and book your yacht...
Broadblue Charters
Charter Management company based in Turkey specialising in Broadblue Catamarans.
Classic Charter
Classic Charter has put together a unique collection of classic yachts for the discerning charterer who would like to experience sailing on historic yachts. We presently...
Empress Cruises
Yacht charter vacation in beautiful surroundings! Empress Cruises offers yacht charters with captain and stewardess on board our 52 ft DeFever motor yacht. Just relax...
Gulet Online
Blue cruise is a discovery of Turkey's Turquoise Coast on a yachting holiday unlike any other. Many exotic beaches and picturesque islands are difficult and sometimes imp...
Mericyacht
We are a leading yacht charter company in Turkey since the year of 1979 with yachting license 126. We organize blue voyages & diving tours by our 42 gulets, motor yachts...
Meridian Travels and Yachting
At Meridian Travels & Yachting, our land and sea based teams do all they can to ensure you have a wonderful holiday. We are Gulet Charter Specialists and have created som...
Nautilus Yachting Bodrum
Navis Yacht Charter Ltd
NYC as charter company is involved in almost all aspects of chartering and yachting industry, starting with yacht charter and management to brokerage and technical servic...
Peter Sommer Travels
An award-winning British tour operator offering expert-led gulet cruises and private gulet charters in Croatia, Greece, Italy and Turkey. Peter has been organising and le...
Seaways Sailing
We are a friendly family-owned business specialising in top quality bareboating and skippered charters. Offering you the freedom and flexibility to tailor make your pe...
Top Yacht Sailing Ltd
Established since 1981, Top Yacht are the longest serving independent UK based charter company operating in Turkey. Family owned and run from our head office in Chicheste...
Ada Yacht
Ada Yachting has been providing a full range of yacht related services to its clients since 1981. In addition to yacht services and new construction activities, the compa...
Adriyatik Sailing
We provide bareboat and crewed charters along Aegean and Mediterranean coasts of Turkey. Our fleet consists of absolutely new 2008 model Jeanneau Sun Odyssey sailboats -...
Afroudakis Yachting
Afroudakis Yachting based in Athens Greece with affiliate partners in San Francisco USA, Dubai UAE & Moscow Russia, operates in yachting industry including activities of...
Barone Yachting
Ihr Partner für Urlaub auf dem Wasser! Seit 28 Jahren vermitteln wir Urlaub auf dem Wasser weltweit. Unsere eigenen Charter Yachten finden Sie in Italien, Kroatien,...
BDP AL Yachting Sp zoo
Sailing and yachting are our passion. We would like to share that passion with you. Come with us and experience the ravishing beauty and uniqueness of sailing. Enjoy your...
Boat in Turkey
We are working as a yacht charter & Brokerage company in Marmaris / Turkey. Please see our web site for more information. Bareboat Sailings , Gulet , Cabin Charters , Mot...
Era Yachting
Era Yachting was established in 1983, is certified as a yacht operator by the Turkish Ministry of Tourism, is a Category "A" member of the Turkish Travel Agencies (TURSAB...
Exclusive Charter Service Inc
We are a full service yacht and Jet Charter Brokerage with access to thousands of jet charter planes and yachts, on-demand service to and from all international locations...
Iris Maritime
Blue Cruise is one of the most thrilling adventures that one can experience, is exploring along the Turkish coast East of Bodrum Sail away on a Blue Cruise. Blue Cruis...
Liga Yachting
Liga Yachting invites you to unique seashore of Göcek Let us explain why? Because of the fact that Göcek has natural shape that prevent seaport from weaves. Göcek has...
Marrem Yachting and Education Center
Blue Cruise combined with yoga and meditation. Enjoy blue lagoons and silent bays. We cruise the southern coast of Turkey and Greek Islands. The perfect getaway on our...
Promarine Yachting
Herewith, we are very pleased to introduce you Promarine yachting and our yacht charter services, sailing school courses and flotilla sailing for pleasant cruising holida...
Pupa Yachting
Pupa is the Bareboat and Gulet company in Turkey and the leading provider of yacht charter and gulet holidays.
Sail in Turkey
Yacht Charter sailing Holidays and Sail Boat Charter in Turkey Bareboat and sail boat yacht charter, a sailing holiday exploring Turkish and Greek Mediterranean Islands ...
Serenity Yachting
Serenity Yachting offers luxury blue cruises along the turquoise coast of Turkey and Greek Islands. Our luxury yacht Serenity 70 is one of the most stylish gulets availab...
Sky Marine
Sky-marine is a yacht brokerage & charter company, which established in Bodrum/Turkey for over ten years. Bodrum the peninsula; where ancient history is surrounded by the...
Steelbird Sailing
Bareboat charter company based in Gocek, Turkey. Operates 9 Jeanneau Sun Odyssey 39i,42i and 45 and all 2008 model.
Sunscape Yachting
Sunscape Yachting offer bespoke independent yacht charter, flotilla sailing and gulet cruising holidays.
Tum Tour Yacht Charter
Since its foundation in 1980, Tum-Tour Yachting has been inspiring these feelings on thousands of people and capturing their holidays within this smile. Tum-Tour Yacht...