Charter Quote Finder
We'll find the best quotes for your exact requirements:


Some photographs of Gulf of Fethiye: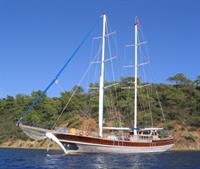 Gulf of Fethiye Turkey yacht charter
4U Yachting
4U Yachting provides you the most comprehensive yachting services primarily chartering, brokerage and boat construction. We are providing Crewed Luxury Private Yacht...
Empress Cruises
Yacht charter vacation in beautiful surroundings! Empress Cruises offers yacht charters with captain and stewardess on board our 52 ft DeFever motor yacht. Just relax...
Mericyacht
We are a leading yacht charter company in Turkey since the year of 1979 with yachting license 126. We organize blue voyages & diving tours by our 42 gulets, motor yachts...
SAILpoint Yachtcharter
We are specialists in flotillas, bareboat and crewed yacht charters and the first choice for sailing in Turkey and Croatia. Specialists in every aspect of our field, w...
LDNB Global Co
Luxury crewed, skippered and bareboat charter on catamarans, Gullets Sailing and Motor yachts available for bareboat and crewed charter in the Mediterranean, the Caribbea...
Royalty Yachts
Royalty Yachts provide fully crewed private yacht charters from a worldwide selection of inspected and hand-picked luxury yachts. Royalty Yachts guarantee that your ultim...
Salmakis Tourism as
Yacht Cruising among the islands of the Aegean and along the coast of the Mediterranean must rank among life's extravagant pleasures. Cruising from island to island and i...
Wishful Sailing
Destinations Wishful Sailing is the number one choice for a sailing holiday anywhere in the world today. We can offer more than 3.500 sailing and motor yachts at 200 ba...
Albatros Yachting
Mediterranean & Aegean sea licensed by the Ministry of Tourism - extensive choice of bareboats, yachting gulets, Motor Yachts for blue cruise holidays with offices in Bod...
Armada Yachting International
Welcome to Turkey's leading, full-service yachting company, Armada Yachting Tourism Ltd. Armada Yachting International provides 'Yacht Charter, Brokerage, Build & Ref...
Boating Turkey
Boating Turkey is the number one online boating holiday service in Turkey. Our services; crewed private yacht charter, gulet charter, bareboat charter, cabin charters, di...
Ekmar Yachting & Brokerage
Ekmar Yachting is a yachting company providing gulet charter and brokerage services offering gulet for sale, luxury charter and yachts, blue cruise for private groups or...
Finike Yachting Agency
Finike Yachting & Shipping Agency We can offer a full range of services including; Check in & out procedures for Turkey Berth reservations Transitlog renewals ...
Sail the Greek Islands and Turkey
Sailing holidays with Sail the Greek islands and Turkey. Sail the Greek islands and Turkey is a yacht charter company offering yachting holidays in Greek islands.
Bareboat Sailing Holidays Ltd
The Ionian Islands of Greece remain Sailing Holidays' spiritual home and are just as beautiful as the first time we went there. The welcome is as warm as ever and the atm...
Gala Yachting & Travel
Gala Yachting luxury crewed yacht charters in Turkey and Greece. Charter luxury motor yachts, sailing boats, or gulets with best rates. To Charter a Crewed Yacht...
Goolets doo
Goolets LTD are a travel agency specialized in gulet blue cruise in Croatia, Turkey and Greece.
Prenses Selin
Quality Gulet Charter. We are a private family company based in the UK and Fethiye Turkey. Princess Selin "Prenses Selin" Launched in May 2005 is an English/Turkish owned...
Setsail Holidays
Setsail offers flight inclusive Flotilla & bareboat sailing holidays. Providing a range of modern cruising yachts from 29 to 51 feet. All holidays are bonded with either...
V GO Yachting & Travel Agency
V-GO Yachting & Travel Ltd is a Turkish/Belgian business that was established in Fethiye in 2000 as a young, dynamic, and multi-lingual Yachting Company. We are always...
Bluestar Yachting
Our company, Bluestar is a Ship and Yacht Agency that has an accumulated expertise on yacht charter holidays and blue cruise operations along the Turkish coastline and Ae...
Fethiye Yachting
Yacht Charters, Blue Cruises, Traditional wooden yacht Gulets Pinar3, Pinar111. Your chosen destinations on the Turkish Mediterranean coastline Bodrum, Marmaris, Fethiye,...
Whitehaven Group
Yacht charter made easy.
Hatsail Tourism & Yachting Agency
Hatsail Tourism & Yachting Agency facilities in Turkey (Cruise Agency, Land Excursion with our professional guides, hotel and flight bookings, Bosphorus Tours) and Super...
Yacht Charter Club
We are specialists in the chartering of a fully staffed sailing yacht or motor vessel world wide. Our portfolio consists of yachts which would suit a couple, group or fam...
Ocean Tour
Pack your bags and get going to the magic Fethiye , the city of the beautiful beaches, history and cruises. With the feet tapping and the ear ringing stay will be made un...
Sailfleet
We are a yacht charter and yacht management company in Fethiye Turkey as operator. At present the company owe 11 sailing yachts and still looking for more sailing yac...
Boomerang Yachting
As Boomerang Yachting we are experienced in arranging charters for a specific group of people or for you individually with our gulet fleet having different features. We c...
Genesis Tours
Genesis Tours is a yacht charter and travel agency based in Fethiye, a town on the Mediterranean coast of Turkey, in the Mugla region. The agency is licensed by the Tu...
Inter Yachting Marmaris
Hidden creeks among the pines, desert islands and ancient sites are strung like pearls along the Mediterranean's oldest maritime route from the Gulf of Fethiye to Antalya...
Fethiye Tours
Latebreaks Yachting