Charter Quote Finder
We'll find the best quotes for your exact requirements:

Neighbouring Areas
Cote d Azur
Some photographs of Minorca: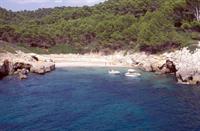 Minorca Spain yacht charter
Velavacanze
Velavacanze is the right partner for your cruise!
Buddhaboat
Charter the World in a semi-luxurious ketch of 19m! Balearics, Canaries, Crossing the Atlantic. From 1 day till some weeks, we adapt our program to your needs. H...
Gran Atalaya Charter
Best crewed charters for families and groups. Charter in Balearics Islands No extra costs no surprises. Come, enjoy, relax and fun!
Sirena Sailing
Sirena Sailing offers the following in the Balearic Islands: - luxury crewed yacht charter (days, weekends, weeks etc.) - bareboat yacht charter - yacht maintenance ...
Blue Sun Yachts
We offer a wide range of sailing yachts, motor yachts, catamarans and gulets to hire in the Mediterranean (France, Spain, Balearic Islands, Italy, Croatia, Greece and Tur...
Charter OK
CharterOk is a charter company with own fleet in Costa Brava and Balearic Islands. Motor boats and Sail boats bareboat or with Skipper
Draco Servicios Nauticos SL
Draco is a company dedicated to the field of marine services, with experience in this sector that seeks quality service, professionalism and personalized service. Oper...
Quaysport Menorca
Why Quaysport? Quaysport Menorca was established in 1994 and has a well-found reputation for providing a unique service. The company is run by a dedicated team who conti...
Clearwater Yacht Brokers
Nothing can beat the feeling of complete freedom and exhilaration that a charter holiday can provide and Menorca is the perfect place to charter in the Mediterranean. The...
e sailracing
Regatta Events: Participate in the Spanish IMS championship (class C or 600) with a competitive boat and race with professional teams at exciting locations and great ven...
Mediterrani Serveis
Yacht Charter
Proyachts
We specialise in the Yacht charter & Yacht management and in 2010 decided to introduce Yacht brokerage to the business. Our goal is to offer full assistance to our client...
Ribeye Balearics
We are the exclusive representative for Ribeye, Goldfish and Ribtec RIBSs in the Balearic Islands. From our showroom in Palma, Mallorca, we can provide and take care of y...
Royalty Yachts
Royalty Yachts provide fully crewed private yacht charters from a worldwide selection of inspected and hand-picked luxury yachts. Royalty Yachts guarantee that your ultim...
Yasanti
The Yasanti (Turkish for "a way of living") is a traditional Turkish Gulet sailing boat comfortable furnished with classical woodwork interior. The Yasanti has profess...
Blue Sky Cruising Ltd
Blue Sky Cruising is based in the port of Andratx, Mallorca, we offer foe charter Fairline Phantom 46. The yacht has 3 bedrooms, sleeping 6 people and can accommodate 12...
Dream Yachts Barcelona
Motor yacht charter company in Barcelona. Charter in Balearic Islands (Majorca, Menorca, Ibiza), Barcelona, Costa Brava, Valencia, Marbella and Gibraltar.
MedSail Adventures
Come and enjoy the sea with us on our Sailing Ship Jeanneau Sun 41, equipped for regatta or high sea cruising. Our offer includes the possibility to learn to sail with...
Menorca Cruising SC
During your charter holiday you can circumnavigate Menorca (80 miles) and discover more than 40 delightful unspoilt coves. Take your time and stop for lunch each day in s...
Charter Menorca
Yacht charter in Menorca, Yachtcharter auf Menorca, Boat rental in Menorca, Alquiler de embarcaciones en Menorca, Alquiler de catamaranes en Menorca, Alquiler de veleros...
Latitud42
Mediterranean and Caribbean crewed sailing yacht charters. Mallorca, Menorca, Ibiza, Barcelona, Greece, Miami, Azores Islands, Transoceanic.
Lux Cat
Brand new catamaran for charter in Balearic, 4 double cabins, 4wc, ac, 40hp auxiliary.
Maverick Shipping
This beautifully maintained 42' catamaran accepts the occasional 'guest' as we travel the Eastern Mediterranean from June to November. Best described as a skippered ch...
Menorca Nautic SL
Menorca Nautic S.L. is located at one of the most beautiful natural ports of the Mediterranean, the port of Mahón, placed at Menorca, belonging to the Balearic Islands. ...
Merak Charter
Merak Yacht Charter is a company that wants to offer a very good fleet in a very good conditions to allow all the people to enjoy the Minorca coast.
Yacht Charter Cannes
Silver Fiz is a superb 20m Yacht available for charter in the Mediterranean and her islands (Corsica, Sardinia, Balearic Islands etc...). For your private cruisings, o...
Go! Nautic
Go! Nautic is a company specialized in yacht charter around the island of Menorca and the Balearic Islands. You can choose between weekly charter, day excursions or a ta...
Minorca Sailing
Minorca Sailing offers a specialist sailing holiday in Menorca. Our sailing and windsurfing centre, based at Fornells Bay, is one of the best equipped in the Mediterranea...
Moonstone Charters
Moonstone are pleased to offer Skippered Charter on their luxury Motor Yacht "Torsque" in Menorca and Majorca. We also have limited opportunities for shared ownership...
Naviera Diamond
Eastern and South coasts of Spain, Balearic and Canary Islands, French Riviera, Corsica, Salerno, Sicily, Croatia, Greece, Turkey... The Mediterranean sea with its enormo...
Samaric
Hello and welcome to 'Samaric' Princess 61, everything you could dream of for a luxury motoryacht holiday in the Mediterranean. Samaric is perfect for corporate entert...
Shantih Marine
RYA Training Centre and Skippered Yacht Charter. We provide RYA courses and offer sailing holidays and corporate entertainment around Angelesey and the Irish Sea during t...
Club Cruise Harbour
Club Membership to give you access to Luxury Motor Cruising at realistic rates
Mountain High
Mountain High is a 45 foot Beneteau M445 sailing yacht designed by Bruce Farr and built in 1995. Martin Hallam and Richard Everton recently purchased her and have moved...
OceanDreams Charter
Sail Charter Menorca
Based on the tranquil island of Menorca in the Balearic Islands, 120 miles southeast of Barcelona in the Mediterranean Sea, this Jeanneau Sun Odyssey 42.2 charter yacht i...
Vellmari Monachus
Vellmarí Monachus, S.L. is a small company that specialises in chartered voyages and 100% customised trips. Its quality services are adapted to the needs of each customer...
Catamaran Charter
Come and enjoy the fabulous sensation of sailing along the north coast of Menorca in a catamaran. The boat is crewed by an experienced captain and first mate who are at y...
Dive Cala Blanca
Perched on the rocks overlooking the beautiful Cala Blanca beach and adjacent to the Moonlight Terrace Bar we have everything for the holidaying diver. Whether your ne...
Incoming Destination & Event Management
If you are a travel agent or tour operator, a marketing or advertising agency, or organizer of incentive or special interest tours, cultural or sports events... then you...
Nautic Fun Menorca
Nautic Fun is one of the most established Sailing Charter Companies in Menorca. It offers a wide range of sailing boats, outboards and llauts (typical Menorcan boats). If...
Ocean Drive
Ocean Drive specialises in creating the perfect Motoryacht experience. Whether you are looking for the perfect charter holday or combining your charter holiday with tuiti...
Slipstream Yacht Charter
The Sunseeker Camargue 44 is a luxurious motor yacht with excellent sea-keeping qualities. Powered by twin 420hp Caterpillar diesel engines which provide comfortable a...
BHI Menorca
Finnmarina Charter Ltd
Some luxury in your life... Take a luxury trip to the Meditarrenian on our Sealine T51 yacht. The home of 'Batman', the motor yacht of Finnmarina Charter Ltd., is t...
Menorca Boats
Menorcaboats s.l., offers its clients a complete boat hire service from the port of Ciutadella in Menorca / Balearic Islands. We have boats ranging from the fast "Maxum",...
Alizes Yachting Club
A large selection of charter and crewed yachts: cats, monohulls, motor yachts, schooners. Choose your charter exotic destination and start to dream!
HopYachts
Veleros Menorca
Sailboats Menorca a company dedicated to the rental of specialized vessels in a variety of boats Multihull
Wind Charter