Charter Quote Finder
We'll find the best quotes for your exact requirements:


Some photographs of Canary Islands: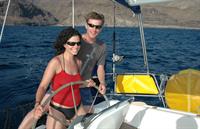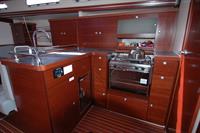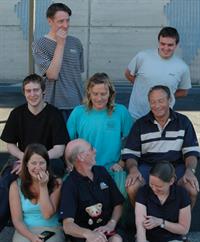 Canary Islands Spain yacht charter
Canaries Seaschool SL
Offering skippered yacht charters and bareboat charters; RYA Sailing and Motor Tidal courses and Powerboat courses, from its base in the new marina at Las Galletas, Tener...
Blue Guru
Luxury yacht charter in Mediterranean & Caribbean. Sunreef 70 Sailing, Sunreef 62 Sailing & the new Sunreef 70 Power !!
Buddhaboat
Charter the World in a semi-luxurious ketch of 19m! Balearics, Canaries, Crossing the Atlantic. From 1 day till some weeks, we adapt our program to your needs. H...
Club Sail Tenerife
Club Sail Sea School was established in 1988 and was the first RYA Training Establishment overseas. We are based in the picturesque Marina of Los Gigantes, Tenerife, and...
Valhalla Yacht
Sea expeditions and explorations - adventurous cruises in the Mediterranean Sea and Atlantic ocean on a transoceanic catamaran tailored for diving and sea exploration. Jo...
Viva Yacht Charter & Broker
Modern fleet of monohulls and Catamarans with competitive prices. Bases in Spain at Palma de Mallorca (Balearic Islands) and Las Palmas de Gran Canaria (Canary Islands...
Atlantic Island Sailing SL
Offering skippered and bareboat yacht Charter with high standards and low prices. New for 2010, Milebuilding Trips and Share a Sail ideal for those who want to sail in...
Draco Servicios Nauticos SL
Draco is a company dedicated to the field of marine services, with experience in this sector that seeks quality service, professionalism and personalized service. Oper...
Malta Sail and Yacht Charter
We are just a couple of Instructors having a good time teaching people to have fun on the water while learning to be safe sailors. The whole point of setting up a scho...
Nautor Swan Charter
We offer bareboat or skippered charter with high standards.
Blue Water Adventure Sailing
RYA (Ocean) Yachtmaster Instructor offers personal and professional individual or group tuition aboard your own vessel. Assisted Passages, Yacht Deliveries, Own Boat T...
Charter Maritimo
Charter Maritimo offers sail, motor and megayachts for charter throughout the world.
Classic Sailing
Debbie and Adam welcome you to Classic Sailing. Our love of Cornwall and sailing was the starting point for Eve of St Mawes. We have taken thousands of people sailing in...
Etoile Marine Atlantic
Multihull, Classic Boats and Tall Ships for crewed charter. From Brittany to the Canary Islands, from the Caribbean Islands to Corsica… our crewed ships sail all year...
LDNB Global Co
Luxury crewed, skippered and bareboat charter on catamarans, Gullets Sailing and Motor yachts available for bareboat and crewed charter in the Mediterranean, the Caribbea...
Canary Sail
Canary Sail are an RYA Sail Cruising School offering all TIDAL sail cruising courses in the sunshine all year round. We run 6 day courses as opposed to 5 with a maximum s...
Charterdream
We offer bareboat charter in Mediterianean Sea - Spain - France - Italy - Croatia - Grecce - Turkey, Canarias Island, Sweden and Caribien Island. Also we offer luxery cr...
Dream Journey Yachting
More then 1,000 bareboat and crewed yachts for charter. Perfect choice of luxury yachts, motor boats, catamarans, sailing boats and gulets for a perfect holiday at sea. W...
Leaders Charter Ltd
Skippered Charters on Irelands West coast aboard a customised Hanse 53ft. yacht. Specialising in Island safaris and coastal cruises. Please check out our website fo...
Sailing Events
Sailing a boat both competently and safely requires a crew who can work together towards a common goal. What a great way to combine team building with fun and rewarding a...
Sailing Paradise
With the whole world seemingly going electronic, with recordings instead of people answering phones, with robots doing most of the jobs humans did so far, we thought we w...
SunJam Sailing Vacations
Adventure Sailing for all skill levels.Prices include skipper, fuel, mooring, dinghy, light breakfast & lunch. Basically all is included except for Your flights and eveni...
Alboran Charter SL
It's every sailor's dream. The challenge of the high seas, the warm welcome on dry land, the latest, fully-equipped boats and personal contact, always close at hand. Albo...
Aventura Plus
Sailing on the ocean on a luxury yacht with your private company or family. Discover with a sailing yacht picturesque marinas, the most beautiful bays and wonderful marin...
Boysterous
Luxury Oyster sailing yacht charters
CataTrips
Daily sailing and fishing charters, catamarans for rent with or without skkiper, diving courses and trips. Bajo de Amanay "La Isla sumergida", Daily submarine trips "Subc...
ECC Yacht Charter
ECC Yacht Charter is one of the premier leisure boat charterers in the Canary Islands. We have operating bases in the harbours of Santa Cruz de Tenerife, capital of th...
Endeavour Sailing
Team work is essential in today's competitive environment, but how do we ensure the correct development of our team. We create a challenging environment where team wor...
Freeliving Yacht Charters
A slice of luxury is easy to get with Freeliving Yacht Charters, we can host a party of up to 30 people harbour based, or up to 20 people for a day trip, or up to a week...
Tranquillo Sailing
Tranquillo Sailing is specialized in Skippered and Fully Crewed Yacht Charter in Slovenia and Croatia in season,from December till April in Canary Islands. We offer our 6...
Velvet Adventure Sailing Ltd
Join us on a skippered charter aboard our Oyster 55. Sail in Norway, Sweden, Denmark, Germany, Spain, Portugal, Madeira, the Azores and the Canary Islands Velvet Adven...
Canarias Yacht Charter
Canary Islands Sail Charter Operations
Cisco S.L., a company run by sailing fans just like you, has a firm commitment to offer luxury sailing yacht charter services in the Canary Islands on a professional, rel...
Naviera Diamond
Eastern and South coasts of Spain, Balearic and Canary Islands, French Riviera, Corsica, Salerno, Sicily, Croatia, Greece, Turkey... The Mediterranean sea with its enormo...
SailinSpain
Free finder service for charter & bareboat in Spain. Save time and money sending a yacht charter request to multiple yacht owners/companies/brokers. Searching for a...
Sailmithril
Mithril is a 50 ft. steel ketch designed by van der Stadt and built in 1991. She is fully equipped for ocean voyaging with all necessary safety gear. Mithril's owners...
Special Feeling Sailing Charters
Onvergetelijke zeilvakanties over de hele wereld (o.a. Griekenland, Kroatie, Italie, Frankrijk, Spanje, Malta, Can. eilanden en Carib), zowel flottielje-zeilen, bareboat-...
Tall Ships Youth Trust
The Tall Ships Youth Trust runs the brigs Stavros S Niarchos and a her sister ship Prince William. The 60m square riggers sail all year round up to 1,000 miles on a typic...
Top Sailing Charter
Made up of extremely knowledgeable seafarers and yachtsmen, our team can provide you with advice and offer you the experience of sailing anywhere in the world, relishing...
EGO Yachtcharter
Moin, Moin - Sonne, Wind und Wellen - das sind für Seglerinnen und Segler die wichtigsten Voraussetzungen für unbeschwerte Tage. Zu einem Traumurlaub gehört aber noch meh...
Global Yacht Charters
We offer 1200 yachts to charter bareboat (you are the skipper) almost everywhere that it is worth chartering - the Mediterranean, Caribbean, Australia, the Canary Islands...
StarLight
These islands in the Atlantic posses more than enough natural beauty to captivate those who visit them. Each island is different and has its own individual character. The...
Villa Marine Lifestyles
Blue Starlet
We hope you can join us for a pleasurable cruise that will bring you in closer touch with some of the great maritime vistas around the Canary Islands Let us be your ho...
Elvire 2
Elvire II is a teak decked 13.70 metre Mediterranean Rorqual ketch, constructed by the Saintanage Chandlers in the Vendee region of France in 1974. This classic sailing b...
Lanzarote Yachting
When winter arrives,with sorrow we resist this fact. Each time its more harder or impossible to practice our favourite sport, sailing. In the cold and rain our hands f...
Powerboat Training Tenerife
Starnautic
SailYachter
Aqua Marina