Charter Quote Finder
We'll find the best quotes for your exact requirements:


Some photographs of Mahe: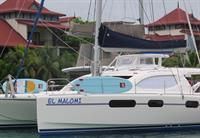 Mahe Seychelles yacht charter
Galatea Diving Cruises Seychelles
A UNIQUE AND CUSTOMIZED EXPERIENCE On a Private charter, Galatea offers all the benefits and facilities of a floating villa enabling you to explore a variety of exciti...
Blue Sun Yachts
We offer a wide range of sailing yachts, motor yachts, catamarans and gulets to hire in the Mediterranean (France, Spain, Balearic Islands, Italy, Croatia, Greece and Tur...
Top Yacht Sailing Ltd
Established since 1981, Top Yacht are the longest serving independent UK based charter company operating in Turkey. Family owned and run from our head office in Chicheste...
Barone Yachting
Ihr Partner für Urlaub auf dem Wasser! Seit 28 Jahren vermitteln wir Urlaub auf dem Wasser weltweit. Unsere eigenen Charter Yachten finden Sie in Italien, Kroatien,...
Crouesty Location
Location bateaux, voiliers et vedettes en Bretagne sud (Morbihan).
LDNB Global Co
Luxury crewed, skippered and bareboat charter on catamarans, Gullets Sailing and Motor yachts available for bareboat and crewed charter in the Mediterranean, the Caribbea...
Royalty Yachts
Royalty Yachts provide fully crewed private yacht charters from a worldwide selection of inspected and hand-picked luxury yachts. Royalty Yachts guarantee that your ultim...
Seychelles Yacht Charter
We are a Charter Broker for the Seychelles. We have our Private fleet which consists of Nkalindau Eleuthera 60 Fountaine Pajot – a luxury catamaran & uShaka Rivera 43 –...
Angel Fish Yacht Charter Ltd
Angel fish Yacht Charter offers a high quality service in the crewed Yacht Charter and Bare Boat sector. Based at a unique location between the airport and the Capital Vi...
Anse Royale Charters Ltd
'Leaving the shore behind for a unique experience' Discover the exquisite islands of the Seychelles archipelago We Cater For: *Big Game Fishing *Deep Sea Fishin...
Aqua Firma Worldwide
Aqua-Firma specialises in yacht charters which provide you with the opportunity to explore the natural world and wilderness areas. Taking control of a yacht can provi...
Barrington Hall Corp
We offer private boat charters onboard luxury charter yachts in the Caribbean, Bahamas, Mediterranean, Greece, Seychelles and Australia. Select from a list of power yacht...
Elegant Yachting pty ltd
We specialise in Fly Fishing Spinning, Popping for GT's and other species Big Game Diving Cruising All our charters are crewed with a Skipper, Chef + Fishing Gu...
Loula Boat Charter
Loula boat charter offers you crewed motor yachts for your excursions on the beautiful islands in Seychelles. Visit the islands of your choice, have a bbq on the beach. ...
Nigel James Yacht Charter
Free advice for your sailing holiday. Sailboats, motor yachts. Bareboats & crewed yacht charters in some of the world's most beautiful locations. We are independent agent...
Sailfishing Charters Seychelles
Sailfishing Charter Seychelles provides tailor made cruises and sailing yacht charters with crew or without (bareboat charter) in the Seychelles archipelago onboard saili...
Alpha Maldives
Specialized in yacht charter in Maldives, including sailing yachts, motor yachts, catamarans, and luxury yachts within the Maldivian silkiest waters.
Bat o Bleu
Yacht charters in the Seychelles. A unique experience for groups or individuals. Our float is new (2008) and our on board service is upmarket. Price already from 1300 € p...
Cosmos Yachting
Cosmos Yachting was first established back in 1988, and since the day we first sailed we have been committed to offering our customers responsive, professional and straig...
Oceans Islands Safaris
Oceans Islands Safaris specializes in Yacht Charters in the Indian Ocean. We offer Mozambique (Bazaruto Archipelago, the Quirimbas Archipelago & Bassas Da India), in Tanz...
Sailndream
Base in France Sailing Agency offering more than 3500 boats in more than 40 destinations. Destination: All Caribbean, Cuba, Seychelles, Madagascar, Amirantes, Cap Ver...
V Com Voile
Owner's Crewed Sailing yachts Broker – all destinations. Also bare boats, cabin cruises and groups.
Yacht Seychelles
Yacht Solutions Co Ltd
We offer high-quality charter vessels throughout Asia and the Pacific, some of these regions include; Burma-Mergui Archipelago, the Andaman Islands, Thailand, Malaysia, S...
MV Illusions
Welcome on board MV Illusions. Join this 72 foot motorised catamaran on their Indian Ocean Island cruises to the beautiful islands of Seychelles. Diving, fly fishing and...
Nicely Dunn Yacht Charters
Let us select the perfect match for your needs, from modest to magnificent - Sailing Yachts, Multihulls and Motor yachts of all sizes and price ranges! We personally ins...
Ocean Charters Seychelles
Silhouette Cruises Ltd
Silhouette Cruises Ltd, established in Seychelles since 1997, started offering cruises aboard S.V. Sea Shell. In response to the growth of interest generated by this uniq...
Sneed Tropical Yacht Charters
Duebe
Herzlich willkommen bei DÜBE, Ihrer Yachtreederei auf Fehmarn. Wir betreuen und begleiten Sie bei allen Vorbereitungen und während Ihres Segeltörns. Wir möchten, dass Sie...
GlobalSailing Horizons LTD
Global Sailing Horizons offers a wide range of sailing yachts, catamarans and motor yachts in some of the most beautiful destinations in the most desirable locations arou...
Speedys Yacht Management Seychelles
In a world that is becoming increasingly cluttered, grimy and insecure Seychelles represents a breath of fresh air. Victoria, its deep water port, offers a suite of facil...
TG Radek Masin Yacht Agents Co Ltd
VDS Marine
A1 Yachting (Seychelles) Ltd
A silver flash pierces the azure waters; the burning tropical sun dips low on the horizon and tomorrow promises another day of the most exotic fishing challenges in the w...
Crazy Yacht Charter
Crazy Yacht Charter offers you unforgettable holidays aboard cozy and comfortable boats. Barcelona, the Balearic Islands, Croatia, Greece, The Caribbean, Seychelles an...
Hobie Cat Adventures
Marine Cat Sey
With 30 years of experience, Philippe Berteloot is happy to greet you in the Seychelles in the hearth of the Indian Ocean; Philippe is a skilled sailor and you will espec...
Reeltime
One of our greatest thrills in Seychelles deep blue waters, with sunshine all year round and exotic scenes. We offer a wide range of activities, on a daily basis, on o...
The Moorings UK
Water World pty Ltd
A yacht charter company based in Seychelles specializing in Yacht Charter, fishing, car hire, and yacht management.
Aichfeld Yachting
Creative Sailing Corp
Creative Sailing Corp. with worldwide connections to SAIL and POWER Yacht Charters does also specialize in crewed charters. Our skipper takes care about his guests and ta...
Ocean Bird Boat Charter
QCNS Cruise
Starnautic
Blue Island Charters
Blue Water Charter (SC)
Catanga Yacht Charter
Exclusive Yacht Services Ltd