Charter Quote Finder
We'll find the best quotes for your exact requirements:


Some photographs of Grenadines: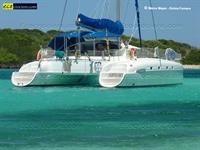 Grenadines Saint Vincent and the Grenadines yacht charter
Sail Ionian
A family run company operating out Greece from May to October and from the Grenadines in November to July. We offer bareboat charter, assisted sailing, skippered and crew...
di Yacht Charter
di Yacht Charter was founded by Matt and Liz Abbiss in 1998, we have 15 years experience in the Yacht Charter business having crewed various race and cruise charter yacht...
Blue Sun Yachts
We offer a wide range of sailing yachts, motor yachts, catamarans and gulets to hire in the Mediterranean (France, Spain, Balearic Islands, Italy, Croatia, Greece and Tur...
Swan Victoria
All inclusive crewed yacht charters in the BVI, USVI and the Caribbean onboard a beautiful Swan 48, ocean cruiser / racer. Victoria was awarded "Best maintained Swan" by...
Cookielicious
Cookielicious is a fine example of the new Oyster 72 model and is available to charter in the Mediterranean or Caribbean. Built in the United Kingdom to the traditional s...
Etoile Marine Atlantic
Multihull, Classic Boats and Tall Ships for crewed charter. From Brittany to the Canary Islands, from the Caribbean Islands to Corsica… our crewed ships sail all year...
LDNB Global Co
Luxury crewed, skippered and bareboat charter on catamarans, Gullets Sailing and Motor yachts available for bareboat and crewed charter in the Mediterranean, the Caribbea...
NV Yacht Charters LLC
"Providing eNVious Crewed Yacht Charter Vacations Worldwide"! NV Yacht Charters can be your premier broker and find the perfect crewed yacht charter for your family, gro...
Royalty Yachts
Royalty Yachts provide fully crewed private yacht charters from a worldwide selection of inspected and hand-picked luxury yachts. Royalty Yachts guarantee that your ultim...
Hamilton Yacht Charter
Step aboard Hamilton, the beautiful Nautor's Swan 86, and experience the best of exciting sailing and spacious comfort. HAMILTON offers the perfect combination of perform...
Istinto Blu
We work only on catamarans and offer luxury crewed charters in the following places: Italy (Sardinia islands) France (Corsica) Caribbean Sea, Grenadines Venezuela L...
June Montagne Yacht Charters
Experience the ultimate vacation or honeymoon with your very own yacht charter. We offer a wide range of sailing and motor yacht charters in locations throughout the worl...
Richleigh Yachts
When you take time away from the normal routine of your life, you want something really special, memorable and luxurious. Create a world of your own aboard a luxury yacht...
SLM Charter Ltd
SLM introduces a stylish new way to enjoy luxury Catamaran Sailing. Our fleet of catamarans, ranging from 55 to 73 feet, are immaculately designed with state-of-the-art c...
TMM Yacht Charters
TMM has fleets in the British Virgin Islands, Belize and Tortola. Fleet is made up of Catamarans, Monohulls, Motor Yachts and Power Cats. Charter dealers for Beneteau, Je...
Awanae
Charter and life coaching company, we offer sailing cruises on skipped boats in Greece, Turkey, Phuket, the East Coast of the USA and the Grenadine Islands. In Greece...
Carefree Yacht Charters
Our specialty is arranging extraordinary Caribbean yacht charters for our clients. These private boat vacations are surprisingly affordable and make an ideal getaway for...
Cruzan Yacht Charters
Cruzan Yacht Charters provides bareboat, crewed, luxury and party charters in South Florida, the Florida Keys, the Bahamas, the Caribbean, New England and many other worl...
Dennis Hideaway Yacht Charter
Chartering a yacht, be it for one day or overnight, is the only way to see and appreciate the real beauty of Mayreau and the neighboring Tobago Cays.
Eco Sailing Charters
Caribbean Eco-sailing charters offers sailing vacations in tropical Caribbean sailing paradise. On board your luxurious Caribbean charter yacht discover exciting Caribbea...
Escape Yachting
We offer sailing days, weekends and holidays on luxury yachts on the Solent and worldwide, with recent experience in the Caribbean, South East Asia, Mediterranean and the...
Lady Liv Yacht Charter
Have you ever dreamed of cruising the crystal clear waters of the Mediterranean and the Caribbean, on your very own luxuriously appointed yacht with your own Skipper and...
Onrust Yacht Charters
Onrust Yacht Charters is your dedicated partner for luxury yacht charters. Whether you are looking for a luxury motor yacht or a beautiful sailing yacht, we know the best...
Sailing Directions
Caribbean Yacht Charter: Private crewed yacht charters in the Caribbean. Full details of yachts including photos, amenities and booking information.
Talulah
If your dream is to sail care-free through chains of islands of your own choice in the Caribbean, taking your time, relaxing in the sun, coming and going at your own pac...
The Charter Yacht Company
With the first thrill of stepping aboard an elegant yacht that you can call "yours" for the week, this is the perfect platform for an exceptional vacation, and no better...
Twighlight Marina Sailing Vacations
"Honeymooners, vacationers, families and friends...join us for an incredible vacation in the unspoiled islands of the Caribbean!"
Antigua Yacht Charters
Caribbean yacht charters - the best luxury sailing vacations in the Caribbean. The Virgin Islands, Antigua, St Bart's, St Martin, the Grenadines and Grenada. We can he...
Barefoot Yacht Charters
The leading charter company in the Caribbean islands of St Vincent and the Grenadines, we offer a wide range of well-maintained, well-equipped bareboat charter yachts in...
Genesis Yacht Charter
Genesis is fully equipped to take you on an unforgettable journey in relaxing atmosphere and most certainly in style. Our goal is to provide your party of two with unmatc...
Huntley Yacht Vacations
Huntley Yacht Vacations has been matching guests with the right crew and yachts since 1973.
Nicely Dunn Yacht Charters
Let us select the perfect match for your needs, from modest to magnificent - Sailing Yachts, Multihulls and Motor yachts of all sizes and price ranges! We personally ins...
SV Illusion Charters
Discover the Caribbean on board the 'S/V Illusion' a beautiful 75 foot classic sailing schooner. She is available for all inclusive skippered charters and dive charter...
Tzigane IX
Experience the ultimate escape sailing aboard Tzigane IX in crystal clear waters and let you drift away to your own private island paradise. Here you will find everything...
Yates Yachts
Greetings from the sunny islands of the Caribbean! Yacht charters are a perfect way to see the beautiful Islands. Sailing on your very own, private, fully-crewed yacht c...
Blue Star Yacht Charters
BlueScape
Escales Grenadines
Horta
Welcome aboard Horta, Harm and Lizzy would like to introduce to you our Dutch schooner "Horta". She combines old world charm with the luxury of modern day amenties.
Islandtime Holidays
Come discover St. Vincent and the Grenadines and you will find the Caribbean islands beyond your imagination: unspoiled beaches, snorkeling, scuba diving, trade wind sail...
Lost Our Marbles
Sailing in the Grenadines is considered to be some of the best in the world. 32 islands mostly uninhabited, rain forest, a volcano, spectacular coral reefs, crystal clear...
Mirabella Yachts
Welcome to a selection of the best charter sailing yachts including Mirabella, Mirabella III and Mirabella V. World class luxury sailing yachts including the newest Mirab...
Nicola IV
Learn to sail at the helm of a fast, comfortable, and "easy to handle" 30ft Pearson!
Wild Tigris
Step aboard Wild Tigris, a Swan 76, and have the trip of a lifetime! The crew will spoil you so much you won't want to go home! This blue water cruising thoroughbred,...
Chantours Caribbean Inc
Imagine waking up on your own private yacht anchored in the Grenadines... taking an early morning dip in the crystal clear waters before considering your options for the...
CharterBase
CharterBase offers the finest selection of over 700 luxury crewed yacht charters available worldwide. Each of our yachts are fully catered and crewed by professionals who...
Elite Island Yachts
Elite Island Yachts offers one of the most unique experiences to be found in the world of Caribbean yacht charters. Imagine a sailing vacation on your very own all-inclus...
GeoExpress Yacht Charter Brokers
GeoExpress provides travel and tourism services, specializing in brokerage of yacht charters. Our brokers regularly meet charter yacht crews, owners, and managers at vari...
Makayabella
Hello, I'm John Nicholson. Sue and I would like to welcome you aboard "Makayabella" for a memorable Caribbean cruise. We have spent many years sailing and diving the c...
Mermer Location