Charter Quote Finder
We'll find the best quotes for your exact requirements:


Some photographs of North Atlantic Ocean: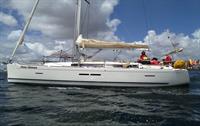 North Atlantic Ocean Portugal yacht charter
Palmayachts
Palmayachts born of a passion. The passion for the sea, sailing, the fresh air, the sound of the wind and sea passing through the hull, sliding the waves, to see the land becoming smaller as we move away from the coast and see it back again after a few days. We want to be a reference in the nautical tourism in Portugal and that our customers have fun, experience the thrills of sailing and fall in love with this great activity, just like us.
Valhalla Yacht
Sea expeditions and explorations - adventurous cruises in the Mediterranean Sea and Atlantic ocean on a transoceanic catamaran tailored for diving and sea exploration. Jo...
Douro Vou Ecotourism Yachts Charter House Boats Ltd
Douro River Valley, Portugal Yacht Charter House Boat Charter Cruises Geo tourism Wine tourism Eco Tourism Birdwatching
Lisboa Sailing Company
Lisbon Sailing Company has as mission to divulge and promote sail teaching, sailing yachts charters and sailboat tours in Portugal. Our Yachts Charter Service, allows...
Nautic S Arenal
Disfruta navegando a bordo de un yate de 12 m. por la Bahía de Bayona y la Ría de Vigo de 8 H. de duración. Saldremos sobre las 11:00 desde puerto, pasearemos por la B...
Quima Yachting
With more than 20 years experience and knowledge in the charter business we can arrange your sailing holidays in a perfect way. We are the Portuguese representatives...
West Coast Sailing Centre
Sailing School in Lisbon area (Portugal). A great chance to sail while you visit Lisbon. Try our daycruises, charter, choose to enter a regata or simply improve your skil...
Halcyon I
Halcyon I is a boat with lots of character. Built in 1969, under a G. L. Watson & Co plan, was one of the biggest Portuguese yachts of her time with its 55 feet long and...
WaterX
at WaterX, we are Specialized on Nautical events for groups of friends & corporate events. Operating since 2002 we perform events with a wide range of boats: Sailing Yach...
Meridianos e Travessias Actividade Maritima Ltda
A multidisciplinary team of highly qualified and skilled in several areas: Degrees in piloting by the Nautical School Infante Dom Henrique, Baccalaureates in Aviation...
Sail Away Sailing
Sail Away Sailing is a company specialized in renting and charting sailing boats, either crewed or barebout. Operating in Portugal and in the Spanish Coast we offer out c...
Whydah Charters Limited
Sailing holidays in U.K. France, Spain and Portugal aboard a classic pilot schooner. MCA registered,catering for small groups of 4 people. The vessel is run by a skippe...
Windsong Charter
Windsong Charter is a family owned independent company. We have been involved in chartering and sail training since 1996. This year we offer a brand new 2003 Beneteau F...
Algarve Sailing
New Beneteau Oceanis 523 for crewed charter. Based in Albufeira Marina as from May 1st 2006. Dimensions : 16.2m x 4.9m x 2.4m Displacement : 14.000 kgs Engine :...
Sailmithril
Mithril is a 50 ft. steel ketch designed by van der Stadt and built in 1991. She is fully equipped for ocean voyaging with all necessary safety gear. Mithril's owners...
EGO Yachtcharter
Moin, Moin - Sonne, Wind und Wellen - das sind für Seglerinnen und Segler die wichtigsten Voraussetzungen für unbeschwerte Tage. Zu einem Traumurlaub gehört aber noch meh...
Nautistar Yacht Charter
Portugal Sailing
Yacht charters, cruises and tuition in Portugal, Madeira and the Azores.
Vela Lusa
Our sailing academy was established in the year 2000, with a special consideration towards quality, both of sailboats and classes. Our team is made of professional sailor...