Charter Quote Finder
We'll find the best quotes for your exact requirements:


Some photographs of Great Masurian Lakes: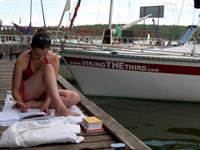 Great Masurian Lakes Poland yacht charter
Millennium Sailing Association
The Millenium Sailing Association is a voluntary, independent, self-managed and non-profit union, popularising and supporting all aspects of yacht sailing. We are base...
Centre of Promotion and Tourist Information
In the north-eastern part of Poland, in the middle of the Mazury Lakeland area, lies the largest series of lakes in Poland - The Great Masurian Lakes. This is one of the...
Hak Yacht Club SC
"Hak Yacht Club" exists on Polish market since 1998. We rent sailing yachts on the area of the Great Masurian Lakes. We offer modern, high quality and well equipped boats...
Get Yacht
Our company charters sailing yachts in Poland. We offer you a possibility to spend your holidays sailing on the area of Polish Great Masurian Lakes on board of modern boa...
Polmak
Spędzenie urlopu pod żaglami to marzenie wielu osób lubiących aktywny wypoczynek i kontakt z przyrodą. Czas spędzony na "mazurskiej włócz...
Urkii Yacht
Serdecznie witamy na stronie Urkii Yacht. Oferujemy Państwu czarter wypieszczonych łódek: przestronnego Tes'a 678 BT, bardzo wygodnego, idealnego dla rejsów tur...
Armor
BTA Gertis Marek Makowski
Great Masurian Lakes offers You the best way to spend your holidays! We are orginising: - Sailing camps for youth and adults - Indyvidual sailing courses - Polish Y...
DeMar
We ofer only houseboat with hybrid drive on Mazurian Lakes. Suncamper 30 LUX with electric engine allow You to visit any lake without noice. Capacios batery pack, fast ba...
Sygnet Yacht Czarter
We invite you to get acquainted with our offer. We charter the newest, most comfortable and well equipped yachts on the lakes of Mazury region in Poland. Our yachts do...
Czartery Jachtow
Jachty
Jacht Info Service
Offers private sailing boat charter on the Masurian Big Lakes in Poland.
Polish Union of Disabled Sailors
Giżycko and Great Masurian Lakes are one of the most beautiful parts of Poland. It's famous for its unique landscape and touristis resources. Here nature uncovers it...
Sailor
Since 1993 Sailor has acquired extensive experience and competency in yacht charter services. After each season there are more and more satisfied customers, who want to u...
Socor Jacht Czarter
Czarter jachtow zaglowych na Wielkich Jeziorach Mazurskich, port Gizycko. Proponujemy wynajem: Tango 730 S, Tes 660, Sasanka 620.
Spid Jacht
Uroda szeroko rozlanych wielkich płaszczyzn wodnych tysiąca jezior, otoczonych łagodnie wzniesionymi wzgórzami nie wymaga reklamy. Piękne zachody s...
Tomasz Wojczys
Viking the Third
Whether you are completely new to sailing or an experienced sailor, our skipper will ensure that you have a great holiday. If you are interested, he can teach you the...
Centrum Mazur
Eine Perle der Region Masuren ist Gizycko (Lötzen), eine Stadt, die genau in ihrer Mitte liegt, an einem schmalen Landstreifen zwischen zwei flächenmäßig großen Seen, Nie...
Cicha Zatoka
Czartery Jachtow na Mazurach
Delphina 29
Galindia Jacht Czarter
Galindia Yacht Charter
Horyzont Jacht Czarter
Krajan Czarter
Lajd Charter Yacht
LechCzarter Mazury
Mazur Wind
Mazuryn Yachting
Nadzieja Czarter Jachow
Pu Zych
Wir freuen uns, dass Sie unsere Internetseite besucht haben. Wen Sie Interesse haben aktiv Urlaub in Masuren zu machen, das heibt, dass Sie gut getroffen haben. Wir werde...
Rejs Czarter
Shafran Sail
Welcome to Mazury. We invite you to familiarize with the offer of our company: We offer a charter of new yacht models built by famous manufacturers. All yachts are di...
UKA Tadeusz
Wiking Czarter Jachtow na Mazurach
Wind Yachts
Wypożyczalnia Sprzętu Wodnego FUN
Zeglarz
Akademicki Zwiazek Sportowy
Almatur Gizycko
Artur Jurewicz Czarter
Bialowas Robert
Bluewave
Czarter Jacht Cichy Kat
Giżycko
Gizyckie Omegi
Gizycko
Gizycko Czarter