Charter Quote Finder
We'll find the best quotes for your exact requirements:


Some photographs of Bay of Islands: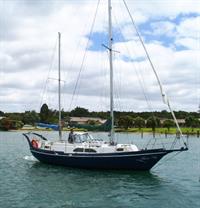 Bay of Islands New Zealand yacht charter
AdventureSail
AdventureSail aims to provide unforgettable sailing experiences in the Bay of Plenty, Coromandel and Hauraki Gulf of New Zealand. Voyages will be tailored to your needs t...
Decked Out Yachting Ltd
Charter boat bookings based in Auckland for charters through out New Zealand and International. Yacht Agent company providing services, supplies and provisioning to s...
Gamesail
Relax and have a magical holiday on the water aboard your own private luxury charter yacht - fully crewed and catered for your enjoyment. Gamesail offers luxury saili...
Kingfisher Yacht Charters
Sail the Bay of Islands with us, Kingfisher Yacht Charters, in Northland, New Zealand. We will take you on a cruise where you will explore the beautiful bays and sights i...
Mill Bay Haven Sailing Charters
Mill Bay Haven, which offers luxury lodge accommodation in Mangonui, in the Far North of New Zealand, also offers skippered sailing charters on a Bavaria 44 sloop called...
Multisail Ltd
Isis is a 16.6 metre (56 foot) performance orientated sailing luxury cruising catamaran built to the highest standard with the very best of equipment. We specialise in...
Ruawaka
MV Ruawaka is a fully surveyed 10m catamaran. With a beam of 4.5 metres, she offers a spacious cockpit for fishing & diving and operates on Northland's east coast out of...
Undine Sunset Cruises
To embark on an Undine cruise is to immerse yourself in an experience from a bygone era. You will be met on Paihia beach by a 1920's racing dinghy to be ferried out to...
Cool Change
Cool Change is very stable and does not lean over while sailing, making this an enjoyable experience, even for the less confident. Don and Marilyn are the proud builders...
Fair Wind Charters
FairWind Charters offers well presented yachts, available either bareboat (sail yourself) or skippered, for sailing charters in New Zealand's Bay of Islands. The flee...
Grand Large
On board of our 54 feet sailing yacht, our goal is, for those who love the nature and the sea, to discover places, which are only attainable by boat. It's been 3 years...
Great Escape Yacht Charters
Sail yourself yachts in the bay of Islands from 20 to 32 feet at an affordable rate. Great sailing in a beautiful area with a friendly Kiwi company. What could be nicer?...
Maestro Charters Ltd
Hire Maestro for an unforgettable cruise in the Bay of Islands. Enjoy a trip on Maestro, a 32' launch, for a day of spectacular scenery and superb fishing. Take the chanc...
Sail Connections
Sail Connections has the largest portfolio of charter boats for liveaboard holidays in New Zealand, Australia and the islands of the South Pacific. Holiday Package: We...
Te Aura
This fast and exceptionally roomy 12 Mtr Grainger catamaran underwent a massive refit in 2003. and presents as a brand new boat . She is fully crewed with NZ Certified Sk...
YachtMate
YachtMate is a Yacht Delivery and Management company based in Southampton UK, we deal with delivery trips and shipping world-wide specialising in Transatlantic and Transp...
AY & LB Ltd
Auckland boat management company that handles MSA & SSM charter boats & vessels for overseas owners as well as busy local business men & women. Monthly maintenance ch...
Ecocruz
Join the friendly crew of the Manawanui on a 3-day sailing expedition around the Bay of Islands. Snorkel in crystal clear waters, kayak around uninhabited islands, catch...
R Tucker Thompson
Share a tall ship sailing adventure and step back in time to the romance of bygone years, with the tall ship "R.Tucker Thompson". If you want to go sailing in New Zeal...
Seclusion
This magnificent 57 foot motoryacht was built of triple skin kauri in 1989, and completely refitted by owner Kevin Stratful in 2002. With only two guest cabins, Seclusion...
Shalako Charters
"Let our charter boat take you where the weather is friendly and boating is a pleasure." - Brian Keene, Skipper. New Zealand's Hauraki Gulf, Bay of Islands and Northla...
Whangaroa Houseboat Rentals
If you're looking for an unforgettable holiday experience in Northland, N.Z. then look no further. We offer a unique holiday solution which lets you live on and explore t...
YachtShare
Share our Launches and Yachts on a New Zealand Charter Holiday
Chelsea Yacht Charter
We offer skippered charters on our luxury sloop "Chelsea Bride" a superb 42ft Catalina MKll. Chelsea Bride has finely crafted wood interior and a roomy, comfortable saloo...
Cotton Blossom Charters
Enjoy unique, tailor-made 5 to 10 day sailing holidays in the south pacific islands of Vanuatu or the Bay of Islands, New Zealand, on board our 55ft yacht Cotton Blossom....
Escapade Charters
Escapade is a 75 foot trawler-style motor yacht, and is luxuriously appointed to ensure your long distance charter has every possible level of comfort. It has been especi...
Irresistible Charters
Beneteau "Irresistible" is a 51 ft / 15m cruising yacht . We offer skippered charters @ Hauraki Gulf & Bay of Islands, New Zealand. Professional skipper with excellent kn...
Mr Roosevelt
Sail the beautiful Northland Coast and harbours aboard the superb Davidson designed 42 foot (12.8 metre) yacht "Mr Roosevelt". Cruise or laze around in idyllic bays or le...
Primetime Charters
PRIMETIME is an immaculately presented 58 foot launch with the latest interior designs and computer navigation technology. The vessel comes complete with the highest mari...
Reel Awesome Fishing Charters
Reel Awesome, a luxury 51ft Riviera Game Fisher offers the very best in Marlin and Sport Fishing adventures out of Whangaroa Harbour New Zealand. Specialists in Big Game...
First Light Travel
With over 15,000km of coastline, New Zealand's pristine coastal waters promise a blissful holiday for those who seek time-out on the water. And what better place to sail...
Nautic Encounters
Our vision is to provide a world class experience on Nautic Encounter which encompasses the unparalleled experiences we have enjoyed for many years in the exquisite playg...
Set Sail Northland New Zealand
Cast off and set sail... * enjoy a classic cruising holiday and be as hands on as much or as little as you choose * undertake instruction on boathandling, nav...
Silva Fox
Silva Fox is dedicated to offering the ultimate fishing experience for anglers demanding the very best in salt water sport fishing, game fishing or land based fishing.......
Te Vaka
Te Vaka is a modern powerful, sloop rigged, high performance off shore cruising yacht based in the Bay of Islands. This specially designed 60ft yacht has graceful racing...
Waikopou Charters
Waikopou Charters operate in New Zealand's famous and historic Bay of Islands. This wonderful region has hundreds of beautiful islands and miles of scenic coves and be...
Windborne Charters
Windborne is a 62 ft gaff rigged schooner that has been sailing the oceans of the world since 1928. A vessel of great character, charm strength and comfort, she was rebui...
Bay City Cruises
Searay 270 Sundancer (8.7m), self drive or experienced skipper. Auckland Harbour or Bay of Islands
Bay of Islands Bareboats
Bay Of Islands Bareboats Ltd is based at the Opua Marina, Opua is the main Port of Entry for visiting overseas vessels arriving in New Zealand's waters, and is a popular...
Cruzee Charters
"Cruzee" is our Auckland charter launch designed for NZ waters. Its 11x berths give comfortable accommodation and its spacious, well appointed saloon and galley is perfec...
Pembroke Adventure Cruises
Built by the New Zealand Government in 1962, MV Pembroke was commissioned especially to introduce tourists to the splendours of New Zealand's waterways and coastal scener...
Rock the Boat
SY Windsurfer
'WINDSURFER' - Enjoy hands-on sailing or relax amongst the numerous scenic bays, wildlife and sunshine. 'Windsurfer', a 12.5 meter Skippered Jeanneau, designed for lu...
Irene
Irene is a big charter yacht - a 1991 Beneteau,designed to accommodate up to 8 guests in comfort and style. Each of her four double staterooms has an adjoining shower and...
Iron Butterfly
A 47 ft steel cutter, built in 1975 as a one-off design by Alan Buchanan. She has many fast passages to her credit. Experience the strength and stability of an ocean-goin...
Yousail
Yousail offer bareboat charter, skippered charter and luxury motor yachts charter anywhere in the world. We list vessels to suit any budget, from the quaint bareboat to t...
Freedom Fishing
Bay of Islands Yacht Charters Ltd
Carino Sailing and Dolphin Adventures
Coquette