Charter Quote Finder
We'll find the best quotes for your exact requirements:


Some photographs of Sicily: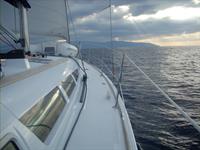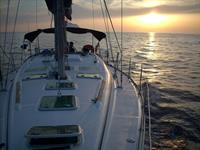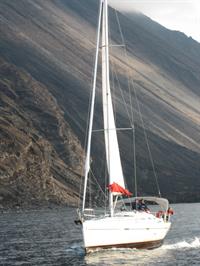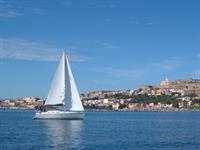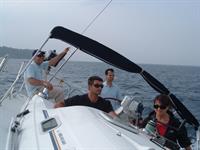 Sicily Italy yacht charter
Moody Yachts France
Luxury Yacht Charter in the Mediterranean (France, Cote d'Azur (French Riviera), St Tropez, Cannes, Monaco, Italy, Greece, Turkey, Mallorca, Ibiza, Croatia), the Caribbea...
AuraCharter
Cruise and discover the hidden beauty and charm of alluring destinations of Aeolian islands, explore beautiful bays and idyllic anchorages, swim in warm crystal-clear blu...
Il Miglio Blue
Il Miglio Blue - offers skippered or bareboat charters by sailboat, catamaran, motorboat, or gulet in Sicily, Italy. Our bases are a short sail away from the Aeolian Isla...
MiddleSea Yacht Charters
MiddleSea Yacht Charters brings you open-sea sailing from Malta, at the heart of the Mediterranean. Luxury, bareboat charters for experienced sailors seeking a challen...
Orange Charter
Wonderful sights, warm crystal-clear weather, long lasting season: the Mediterranean sea is probably the most magic place to go sailing. Orange charter is an Italian s...
Charter Class
Charter Class is a consortium of shipowners that puts itself like an interface between credited agencies and its own partners. Charter Class has 14 new and well equipp...
Malta XYacht Charters
Here is an opportunity to sail on a high quality custom built performance sailing yacht. Geisha is berthed at Portomaso Marina (Berth no 9) in the heart of the entertainm...
MarineItaly
MarineItaly is a sailing network agency founded by Raffaele Miranda with expertise and professionals in the word of Sailing & Yachting in Italy. Our nautical experienc...
Sail Adventures
Sailing charter with boats from 9 to 15 meters with or without crew. Sailing school, daily cruises, week-end, offshore navigation. Individual or group embarkations. Base...
Shado srl
Sailboat hiring in Sicily, among history, culture and wonderful sea sceneries : it's a holiday you will hardly forget. With its islands, Sicily is a unique destination......
Airisjet srl
Azmarine, brand of Airisjet, supplies a wide range of services: catamarans rental with full charter option and charter cabin; it can grant all your requests. Your crui...
Andrea
Fishing Charter on the best shoals of the Mediterranean Sea and of Sicily. Accommodation, breakfast, lunch and dinner included! We do night trolling for swordfish, tuna f...
Blue Sun Yachts
We offer a wide range of sailing yachts, motor yachts, catamarans and gulets to hire in the Mediterranean (France, Spain, Balearic Islands, Italy, Croatia, Greece and Tur...
Intercharter Ltd
Luxury yacht charter worldwide. A wide selection of bareboat and crewed catamarans, sailing yachts and motor yachts in the Mediterranean Sea (French Riviera, Spain Bal...
Lord Yachting
Croatian charter agency offers wide range of motor yachts, sailing boats, mega yachts, catamarans and gulets for charter in Croatia and Montenegro! We can offer team buil...
Sail Yachting
Sail Yachting srl was established in 1999 from passion and sailing experience of the founding members. Over the years, Sail Yachting has constantly invested in new vessel...
Sardegna Charter
We organize sailing holidays, charter in sardinia, sailing trip, cabin charter with skipper, cruises in sardinia on boat, charter sail, sailing vacations, sailboat rental...
Villegagnons Plaisance
VILLEGAGNONS-PLAISANCE is the leading french company of gulet charter. 500 gulets are available for charter in 12 destinations. Gulet charter Turkey, gulet charter Croati...
6 Nodi
6 Nodi is a yacht charter agency born after many years experience in this field. We place all our experience at our client`s disposal, to ensure a quality service, where...
Aeolian Sailing
Discover the magic beauty of the Aeolian Islands on board Sikabau a 41ft Rival Bermudian Sloop. Based in Sicily, Italy; centre of the Mediterranean Sea. Prices are £50...
Dream Marine
A young, dynamic worldwide yachting specialist, with traditional standards of service and attention to detail, Dream Marine works closely with leading providers in all th...
LDNB Global Co
Luxury crewed, skippered and bareboat charter on catamarans, Gullets Sailing and Motor yachts available for bareboat and crewed charter in the Mediterranean, the Caribbea...
Ombre Blu
'Ombre Blu' is a luxury Catamaran offering boutique sailing experiences throughout Italy and her magical islands. View Italy from a different perspective, arrive in be...
ProgettOceano
ProgettOceano is a shipowner company which develops its activity by use of own sailboats only. This to assure a high standard quality and safety to everybody who preffer...
Royalty Yachts
Royalty Yachts provide fully crewed private yacht charters from a worldwide selection of inspected and hand-picked luxury yachts. Royalty Yachts guarantee that your ultim...
Sea Trust Charter
Seas' Trust Charter is the mark of a young and dynamic company that identifies a range of services related to the nautical world. The charter of sailing boats, assistance...
SP Yachts
From San Remo to Saint Tropez, here you find the best selection of yachts to suite your need and wishes. Based in Nice, on the Cote d'Azur we have only three keywords...
Spacewalker
Hallberg Rassy 42 foot Sailing Ketch available for hire / charter. Cruising area throughout the Mediterranean Sea with special knowledge of the Ionian sea and Eastern Gr...
Stereden Ann Esperanz Ltd
Vela Charter srl
Sailing Yacht Charter owner company. Destinations: Naples bay, Capri, Ischia, Procida, Amalfi and Sorrento Coast, South of Italy, Sicily and eolian Islands
Wilmar Sailing Charter srl
Wilmar Charters Welcome aboard! We specialize in charter boat sailing around Sicily and the Aeolian Islands WILMAR plan and organize your events, business meetings, w...
Aironblue
Aironblue is a ship-owner company specialized in luxury yacht charter. From their initial start in Sicily, the company has expanded and developed into an all-Mediterranea...
Cabin Charter
The perfect vacation for joining a sailing trip as a couple or meeting other singles... Cabin charter, skippered share-boating or sailing cruise, is the type of sailin...
Catamazonas
Jeantot Privilege 47 Amazonas Catamaran in GPR The Privilege 47 is a sailing boat of unusual spaces: 14,5 x 8 metres; 5 double cabins of excellent finishing touche...
Dream Journey Yachting
More then 1,000 bareboat and crewed yachts for charter. Perfect choice of luxury yachts, motor boats, catamarans, sailing boats and gulets for a perfect holiday at sea. W...
Istinto Blu
We work only on catamarans and offer luxury crewed charters in the following places: Italy (Sardinia islands) France (Corsica) Caribbean Sea, Grenadines Venezuela L...
Sea Folk
Since 1990 the Sea-Folk deals in tourism and sports related to the sea such as: yacht's charters, sailing and scuba diving school. It is specialised in the management of...
Turistica Il Gabbiano
Bareboat and skippered yacht charter company since 1989, Turistica Il Gabbiano offers a fleet of catamarans and yachts ranging in size from 34' to 49', and the opportunit...
Caps Boat
Location de voiliers dans plus de 25 destintations dans le monde entier.
Italiacharter
The company Italiacharter brings together the best charter fleets in Italy to offer a more efficient and homogeneous service to foreign clients. All participating fleets...
Kings Legend
Yacht Charter in the Med. Italy - Spain - France - Sicily - Sardinia. Holidays, day charter and regatta sailing: Giraglia, Vulcano, Les Voiles de St. Tropez. Single h...
Le Rotte di Portolano
Yachts charter agency to specialized in Mediterranean area and Caribbean. Can offer more available on sail yachts , motor yachts and gulets in Italy (Apuliae, Sicily, Sar...
Oltre il Blu Charter
Parallelo 38 Charter
Aeolian Islands yacht charter, Lipari Islands, boat rental in Sicily and the islands (Aeolian, Aegadian, Pelagian, Ustica, Taormina, Malta). Boat charter (sailboats, cata...
Rosa dei Venti Charter
Sail Italy Ltd
Charter our yachts and discover the gorgeous Italian islands. If you want to charter a boat anywhere in Italy, from small to large, monohull or catamaran, we have most t...
Seacily
Sicily Rent Boat
Sicily Rent Boat offers expert advice on yacht charters and Mediterranean sailing vacations, with prompt & friendly service. Sailboat, Catamaran and Motor Yacht charters...
Sunsicily
Sunsicily srl, Sicilian yacht charter company, ship-owner from 2001, has its base in the tourist village of Portorosa. The village is situated on the northern-west Sicili...
Van der Vliet Quality Charters
More then 35 years of experience in the yachting world. Specializing in Dutch built crewed quality yachts.The right address if you are looking for excellent service and c...