Charter Quote Finder
We'll find the best quotes for your exact requirements:


Some photographs of Liguria: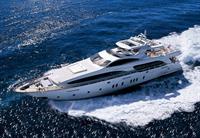 Liguria Italy yacht charter
Sail Charter Srl
Sail Charter is a small sailing boat lease. A small fleet of Oceanis 40' is available at our headquarter in Ameglia (La Spezia). The right place for those who want to go...
M Yachts
M-Yachts is a professional yacht charter agency with head office in Italy and operates as charter broker in the whole world. The company offers a great selection of cr...
Rivieravento
We offer charter programs of outstanding quality: modern, safe and reliable boats; full assistance before and after check-in; and we will help you plan your sailing hol...
Sailmed
Skippered charter holidays with a professional team and accommodation for 4 people on our own superb yacht Kinsale - a Bavaria 41. Sailing and relaxing from island to isl...
Aironblue
Aironblue is a ship-owner company specialized in luxury yacht charter. From their initial start in Sicily, the company has expanded and developed into an all-Mediterranea...
Guantalavela
Guantalavela… born to spread the art of sailing. We are a group of sailing lovers who would like transmit the same passion to others. Guantalavela offers crewed and...
Poolyachts
Poolyachts is the leader in yacht charter in Majorca and all Mediterranean. Both Sailing Yachts and Power Boats are offered on a large listing of nearly all charter yacht...
Agence Giotto
Sailing boats to rent with or without skipper from Menton Garavan,Cote d'Azur,French riviera. A Mentone, COSTA AZZURRA, Port Garavan, 40 minuti in auto dall'aeroporto di...
Neverland Boating
Neverland, Peter Pan's legendary island that all of us, in one way or another, would like to discover. Why not take a break and begin your search right here? A vaca...
Nor Wester Sails srl
Sevinc Yachting Partners Ltd
Charter M/S Sevinc 2, a beautifully Gulet available for private charter or business charter in the Mediterranean, Cote d'Azur, Corsica and North Italy (Liguria Tuscan...
VSF Group
Fine Wine and Provisioning for yachts. The largest range of fine wines actually held in underground storage on the Côte d'Azur, with offices throughout the Mediterranean,...
ABO Group
Like a new one with exceptional finishes, she has the best layout, cabreuva wood flooring, mahogany, six different types of marble, latest TV and Audio systems, underwate...
Erasmo Charter
Erasmo is a Wonderful Mangusta 80, built in 2004, and just refitted, offered crewed for charter in Cote d'Azur, Sardinia, Corsica and all over the Mediterranean. Acco...
Lupo Yacht Services
After more than 20 years sailing the oceans, Ludovico Lupo Clerici has decided to land into a port. Not into just any port, of course, but in the new Marina di Varazze...
Manival Yachting Company
Manival Yachting Company è un'azienda principalmente specializzata nella vacanza in yacht di lusso e nella fornitura di servizi legati allo yachting.
Gasser SAS
Orza Minore
Orza Minore was founded in 1990 by a group of non-professional sailors who wanted to spread their passion and interest in sailing. As of today it is one of the leading sa...
Whisper of V Geronimo