Charter Quote Finder
We'll find the best quotes for your exact requirements:


Some photographs of Gulf of Naples: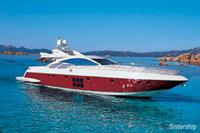 Gulf of Naples Italy yacht charter
MarineItaly
MarineItaly is a sailing network agency founded by Raffaele Miranda with expertise and professionals in the word of Sailing & Yachting in Italy. Our nautical experienc...
Sailing in Italy Roma
Sailing boats and catamarans all around Italy, coast and islands. Elba, Nettuno, Argentario, Sardinia, La Maddalena, Sicily, Eolian, Lipari, Vulcano, Stromboli, Panarea,...
Cataboat
Cataboat fleet is made up of boats that have been specifically chosen to meet the demands of the clients, ranging from the most inexperienced to the expert sailors. Ca...
Intercharter Ltd
Luxury yacht charter worldwide. A wide selection of bareboat and crewed catamarans, sailing yachts and motor yachts in the Mediterranean Sea (French Riviera, Spain Bal...
Peter Insull Yacht Marketing
Based in Antibes at the heart of the Mediterranean cruising grounds, Peter Insull's Yacht Marketing was established over 25 years ago. Still privately owned and personal...
Sail Yachting
Sail Yachting srl was established in 1999 from passion and sailing experience of the founding members. Over the years, Sail Yachting has constantly invested in new vessel...
LDNB Global Co
Luxury crewed, skippered and bareboat charter on catamarans, Gullets Sailing and Motor yachts available for bareboat and crewed charter in the Mediterranean, the Caribbea...
Ombre Blu
'Ombre Blu' is a luxury Catamaran offering boutique sailing experiences throughout Italy and her magical islands. View Italy from a different perspective, arrive in be...
ProgettOceano
ProgettOceano is a shipowner company which develops its activity by use of own sailboats only. This to assure a high standard quality and safety to everybody who preffer...
Rigo Yachts International
Rigo Yachts International, based in Italy, is proud to present their crewed charter yachts Central Agency in addition we have access to the world wide availabilities, fro...
Royalty Yachts
Royalty Yachts provide fully crewed private yacht charters from a worldwide selection of inspected and hand-picked luxury yachts. Royalty Yachts guarantee that your ultim...
SP Yachts
From San Remo to Saint Tropez, here you find the best selection of yachts to suite your need and wishes. Based in Nice, on the Cote d'Azur we have only three keywords...
Vela Charter srl
Sailing Yacht Charter owner company. Destinations: Naples bay, Capri, Ischia, Procida, Amalfi and Sorrento Coast, South of Italy, Sicily and eolian Islands
Aironblue
Aironblue is a ship-owner company specialized in luxury yacht charter. From their initial start in Sicily, the company has expanded and developed into an all-Mediterranea...
Catamazonas
Jeantot Privilege 47 Amazonas Catamaran in GPR The Privilege 47 is a sailing boat of unusual spaces: 14,5 x 8 metres; 5 double cabins of excellent finishing touche...
Napolicharter
A holiday on a sailing yacht is ideal for those who love the sea: it offers an alternative way of traveling and is perfectly suited for people who enjoy sports as well as...
Activite Decouverte et Nature
Activité Découverte et Nature est une association qui a pour vocation de faire partir le plus grand nombre d'enfants et d'adolescents en séjours. A ce titre, nous organis...
Alta Pressione
Caps Boat
Location de voiliers dans plus de 25 destintations dans le monde entier.
Hoa Yachting
Whatever your dreams when it comes to yachting, Hoa Yachting - Global Yacht Charter can help make them real. With over 15 years' combined experience in the marine busine...
One Day Cruise
Just a sailing day or more on "Rachele" or " Feola" to enjoy your luxury holiday near Capri - Amalfi - Positano - Galli islands - Ischia - Procida. Our nautical base i...
Sermar sas
Sermar is a modern, consolidated company with the front office in a central position in the city of Sorrento and in the port area of Naples city. The Sermar works from o...
Van der Vliet Quality Charters
More then 35 years of experience in the yachting world. Specializing in Dutch built crewed quality yachts.The right address if you are looking for excellent service and c...
Yacht Charter Marine
Yacht Charter Marine charters yachts in the UK, Mediterranean and the Rest of the World. Our aim is to keep information as simple and transparent as possible. Clients, b...
Dive and Charter Med
Jordan and Jordan
Mar Vero
Vela Napoli Charter
Med Yachts Charter Brokerage & Management
Sail Company
Sail Company is specialised in the chartering of sailing boats and in the organisation of cruises in the neapolitan islands of Capri, Ischia and Procida and to the Eolie...
Blue Dream Sailing Charter
Blue Dream Sailing Charter is a sailing charter society that merges the traditional way of making a charter together with new innovative services. Blue Dream Sailing C...
Marina Charter
Sailingreen
Sailingreen is dedicated to active travel and a new perspective on Italian landscapes. Travel by boat as you vacation outdoors: enjoy a double discovery of the sea and la...
Santa Lucia
amalficharter
Around the "Divina" Amalfi Coast, souspended betwen the sky and the sea from Vietri Sul Mare to Li Galli Island, Capri, Ischia, Procida, we like to disclose you, lying on...
CapriTime
HORIZONS
Welcome to our website. We hope you will find the right sailing event, choosing among bareboat rentals, courses, regattas in Italy. Choose a boat then board at Portisc...
Whisper of V Geronimo