Charter Quote Finder
We'll find the best quotes for your exact requirements:


Some photographs of Elba: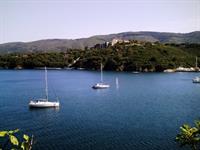 Elba Italy yacht charter
Eden Yachting
Eden Yachting is the leading international yacht charter company and brokerage firm based in Dubai. With a comprehensive fleet of Luxury Yachts and Superyachts available...
Sail Charter Srl
Sail Charter is a small sailing boat lease. A small fleet of Oceanis 40' is available at our headquarter in Ameglia (La Spezia). The right place for those who want to go...
Sailing in Italy Roma
Sailing boats and catamarans all around Italy, coast and islands. Elba, Nettuno, Argentario, Sardinia, La Maddalena, Sicily, Eolian, Lipari, Vulcano, Stromboli, Panarea,...
Bluesail Charter
Bareboat yacht Charter Porto Ercole, Tuscany
M Yachts
M-Yachts is a professional yacht charter agency with head office in Italy and operates as charter broker in the whole world. The company offers a great selection of cr...
Angel Yacht Cannes
Angel Yacht Cannes offers modern and classic yacht charter, sail and power, from Cannes and the French Riviera, Mediterranean. We specialise in corporate hospitality a...
Palm Yachting
charter Company with its awn fleet in the New marina of San VIncenzo.and we can propose all other destinations thankn to our partners. we speak Italian Enghish German F...
Le Rotte di Portolano
Yachts charter agency to specialized in Mediterranean area and Caribbean. Can offer more available on sail yachts , motor yachts and gulets in Italy (Apuliae, Sicily, Sar...
Nor Wester Sails srl
HORIZONS
Welcome to our website. We hope you will find the right sailing event, choosing among bareboat rentals, courses, regattas in Italy. Choose a boat then board at Portisc...
Whisper of V Geronimo