Charter Quote Finder
We'll find the best quotes for your exact requirements:

Neighbouring Areas
Ionian
Some photographs of Mediterranean Sea: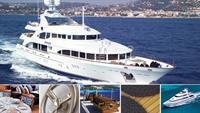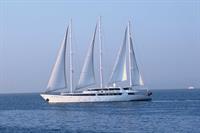 Mediterranean Sea Greece yacht charter
Athens Sailing Academy
Athens sailing academy, offers you the best opportunity to experience the Greek Islands in the way of your dreams. Why not learn how to Sail at a school where sun shi...
South Aegean Yachting
Founded in 1987, S.A.Y. has steadily grown to one of the most reliable yachting companies in Greece, while it specializes in catamaran yachts since 1992, expanding its hi...
Ocean Nomads
Sailing or Cruising Greece with a Sailboat and Skipper. We are a small company and we love to charter sailboats and catamarans with or without a skipper, hostess or de...
Aris Drivas Yachting
We have been providing successful yacht charter services since 1972. Our extensive knowledge of Greek charter yachts combined with many years of chartering experience mak...
Eden Yachting
Eden Yachting is the leading international yacht charter company and brokerage firm based in Dubai. With a comprehensive fleet of Luxury Yachts and Superyachts available...
Euromarine
Operating a fleet of about 90 boats from bases (Pula, Biograd, Split and Dubrovnik), we offer one-way charters between any of above mentioned bases, mini-bus transfers fr...
Grandi Marine Ltd
Grandi Yacht Works Ltd., is a boat building, refit, yacht charter and brokerage company, located in Bodrum, Turkey. Our experience covers the construction. Refit and r...
Kalantzis Yachting
Kalantzis Yachting is a family company, which has operated since 1987 and has been providing a personal service with emphasis on your safety and enjoyment. We are spec...
MIXit Sailing Holidays
MIXit Sailing provides Bareboat & Skippered Yacht Charter from its bases in Volos & Skiathos. We are ideally located for sailing holidays exploring the West Aegean sea ar...
Ocean Marine Group
CharterSearch is a trading name for Ocean Marine Group and we are an independent yacht charter agency specialising in bareboat, skippered and fully crewed yacht charters....
Aegean Sailing School
Discover the sailor in you at Aegean Sailing School. We offer sailing and powerboat courses from the pretty island of Aegina, close to Athens. All our courses are reco...
Aegeotissa Yachts & Cruises
Welcome on Aegeotissa or Aegeotissa II. Welcome aboard the Aegean Ladies. The unique combination of luxury and comfort promise you the most unforgettable holidays aboard...
Blue Adventures
Discover Mediterraneo of your dreams with us... Experience, kindness, comfort, style and passion for sea and dolce vita!
Classic Charter
Classic Charter has put together a unique collection of classic yachts for the discerning charterer who would like to experience sailing on historic yachts. We presently...
Grand Soleil Yacht Charter Ltd
Outstanding yacht charter from the renowned range of yachts from Grand Soleil. Yachts from 37' to 56' Destinations. Croatia, French Riviera, Ballearics, Italy, Por...
GrSail
The Ocean 52.1 offers a luxurious interior, which at first glance below deck speaks for itself. This sailing yacht is distinguished not only for her spaciousness, but als...
Navis Yacht Charter Ltd
NYC as charter company is involved in almost all aspects of chartering and yachting industry, starting with yacht charter and management to brokerage and technical servic...
Palma Maritime SL
Palma Maritime S.L. is a yacht management and yacht charter company based on Mallorca (Majorca) for over 27 years. We have an established network of mechanics and supplie...
Swansailing Yachtcharter
We offer bareboat : Swan Yachts on Baltic Sea and Med.Sea as well berth-charter Bareboat-Charter Baltic Sea: Swan 391, Swan 431, Swan 48, Cardinal 46, Carrera 49 B...
Absolute Yachting
Absolute Yachting is a company that provides high quality services to clients that wish to cruise in a private yacht and visit the Greek islands, the Turkish Coast, Croat...
Ada Yacht
Ada Yachting has been providing a full range of yacht related services to its clients since 1981. In addition to yacht services and new construction activities, the compa...
Anatolie
You can rent just a cabin or the whole yacht. This 40-ton wooden yacht was built in 1996 in the Southeast Aegean Sea. It was registered as a professional tourist vessel u...
BDP AL Yachting Sp zoo
Sailing and yachting are our passion. We would like to share that passion with you. Come with us and experience the ravishing beauty and uniqueness of sailing. Enjoy your...
Dream Marine
A young, dynamic worldwide yachting specialist, with traditional standards of service and attention to detail, Dream Marine works closely with leading providers in all th...
Koutsoukellis Yachting
Koutsoukellis Yachting offers crewed and bareboat yacht charters in Greece and is proud to have a wide selection of yachts to meet all your needs and a personalized servi...
North Star Yachting Services
North Star Yachting's wealth of experience maintained since 1988 is due to its desire for constant improvement and commitment to excellence ensuring our clients the highe...
OceanBlue Yachts
UK based Specialist for Bareboat & Skippered Sailboat & Catamaran charter and Fully Crewed Luxury Yacht charter in Croatia, Italy, Sicily, Sardinia, Corsica, South France...
Royalty Yachts
Royalty Yachts provide fully crewed private yacht charters from a worldwide selection of inspected and hand-picked luxury yachts. Royalty Yachts guarantee that your ultim...
Stereden Ann Esperanz Ltd
Yacht Marine Ltd
"Yacht Marine Management and Consulting Services" is an exclusive, experienced and well established yacht management and consultancy company that specializes in the East...
ADE International Yacht Charter
Barebootcharter (Selbstfahrer) auf unseren Internetseiten finden Sie eine internationale Zusammenstellung von über 160 Motoryachten in den Revieren Mallorca, Ibiza, Südfr...
Aquamarina
The secret to the perfect holiday is in the details. When chartering a yacht, the smallest details really matter. Aquamarina offers a bespoke service to yacht char...
Bodex Yachting
The Aegean and Mediterranean coastal sailing lines are amongst the most unspoilt areas you will find anywhere in Turkey. With ancient and historical sites in abundance y...
Eptanisa Yachting
Eptanisa Yachting is a company owning and operating luxury charter yachts, specializing in the area of the Ionian Sea.
Nikos O Papadakis International Yacht Sales and Charters
Since 1979 Nikos Odysseas Papadakis, International Yachtsales & Charters, has been one of the most professional and well organised firms in Europe, and the East Med, with...
Paros Nautical Club
The Nautical Club of Paros offers short sailing courses for children and adults. Have fun and an educative experience, while on holidays on the Greek Island of Paros! ...
Primo Yachting & Brokerage
Primo Yachting is a yacht charter and brokerage company, established in the year of 2003 in a town called Marmaris in the west coast of Turkey.
RentAyacht
Charter a boat and sail or cruise the Greek Islands. Travel into the vividness of their colours by choosing a reliable and experienced guide as well a welcoming host, Ren...
Sagittarius Yacht Charter
Gut Instinct is based in the beautiful port of Marmaris, Turkey with stunning cruising grounds right on the doorstep. There are regular flights from all over Europe to Da...
Santorini Yacht Services
Private Crewed motor Luxury Yacht Charters Cruises & Tours around Santorini and Greece. Vip Airtaxi,Private Jet, Helicopter transfers,parties,honeymoons sunsets & moonlig...
Sunfos Alessia Yachting
Sunfos Alessia Yachting is a Sailing Yacht Company operating in Greece and based in Mykonos Island. Our aim is to provide first class services to those who seek vacat...
Traba Yachting
Traba Yachting offers sailing cruises in the Aegean, Mediterranean Sea on Turkish and Greek coast. We offer cruises to the groups with superior yachts from basic to...
Casa Dell Arte
The Blue Voyage is a cruise aboard a privately chartered yacht, usually for one or two weeks, along the Aegean and Mediterranean shores of Turkey and possibly including s...
Cloudy Bay Charters
Yacht charters in Turkey, sailing holidays with you at the helm. We invite you to sail Cloudy Bay on the blue waters of the Aegean and Mediterranean along Turkey's breath...
Custom Sailing Ltd
See the "real" Islands with Custom Sailing. We offer the local experience with our qualified skippers and hostesses. Choose from, fully crewed charters on sailboats and...
Dansailing
First network of yacht charter specialists, our aim is to propose our clients each year the largest range of sailing and motor yachts on our destinations. By now we may p...
DR Yachtcharter
DR Yachting offers Motor Yachts and Sailing Yachts in Croatia, Italy, Montenegro and World Wide Charter in all destinations.
Elite Yacht Charters
Elite Yacht Charters specializes in luxury private yacht charters throughout the world on the finest motor and sailing yachts. These yachts range in size from 70' to ove...
Eurobrits
Full delivery service to yachts, villas, door step, ski resorts, camp sites, Bed and Breakfasts. Order online. British, American, Chinese and Thai essentials. The Britis...
Everard Yacht Charter
Whether you want the freedom of sailing your own yacht through crystal clear seas or relax and be pampered on a luxury crewed motor yacht enjoying delicious cuisine and t...