Charter Quote Finder
We'll find the best quotes for your exact requirements:

Neighbouring Areas
English Channel
Some photographs of Bay of Biscay: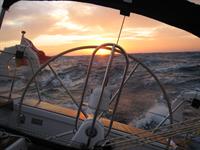 Bay of Biscay France yacht charter
Cap Au Large
Extrado : a team of specialists in Brittany , at Port La Foret, the centre for professional and leisure yachting .Our business : Yacht charter , boat yard , sales , yacht...
Classic Sail France
Traditional sailing with 'Lola of Skagen' Sailing with an authentic old gaffer is the best way to discover the charms of traditional sailing. Come and discover the A...
Sail Madelon
Madelon is independently owned and chartered, Sail for a day, weekend or week for fun, learning or just improve your techniques on a fully Ocean going Cat 1 Yacht. Have a...
Etoile Marine Croisieres
Location de grands voiliers avec équipage, Tradition et Course croisière (de 17 à 35 mètres). Navigations Manche, Atlantique, Méditerranée, Caraïbes.
Rockley Watersports
Rockley Watersports has the unique advantage of being a family run business giving you our personal approach. Established since 1976 we pride ourselves on having created...
Promocean (FR)