Charter Quote Finder
We'll find the best quotes for your exact requirements:


Some photographs of Galapagos Islands: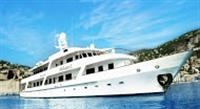 Galapagos Islands Ecuador yacht charter
Andando Tours
There is one name that comes to mind when someone mentions the Galapagos Islands: "The Angermeyer Family" Fiddi Angermeyer was born and raised in the Galapagos Islands...
Aqua Firma Worldwide
Aqua-Firma specialises in yacht charters which provide you with the opportunity to explore the natural world and wilderness areas. Taking control of a yacht can provi...
Dream Journey Yachting
More then 1,000 bareboat and crewed yachts for charter. Perfect choice of luxury yachts, motor boats, catamarans, sailing boats and gulets for a perfect holiday at sea. W...
MyBeautyEcuador
Your Ecuador travel specialist, over 10 years of excellence in the tourism industry. We offer the most complete fleet to the Galapagos Islands, over 50 yachts and ships...
Galahost
We are a specialized yacht charter company offering liveaboards tours in the Galapagos islands, Ecuador . Our tours are recognized as the highest quality within reasonabl...
Galapagos Excursions
Galapagos Island Cruises and Ecuador Tours
Galapagos Travel
We invite you to explore our website and learn about Galapagos Travel, cruising the Galapagos Islands on board our catamaran Galapagos Seaman Journey & our yacht the Gal...
Inca Floats Inc
For 29 years INCA has been delivering some of the most outstanding adventure and learning experiences in the world. We love what we do, which is helping travel dreams com...
Kleintours
Galapagos Cruises and Charters.
AC Yacht Charters
Sailboat and motor yachts in the Caribbean, US and Virgin Island, Riviera, Greece, Turkey, Galalopagos and Alaska cruises.
Galapagos Islands Cruise
Galapagos cruises and custom built trips to the Islands of Darwin´s wake. We offer yacht charters and expedition tours around the Galapagos archipelago. We offer our own...
Galapagos Tours and Cruises
Galapagos Tours and Cruises is proud to be the leader in Galapagos travel, offering the best cruising options in the islands. From the variety of vessels that ply the Gal...
Galasam
Travel with us in Cruises Galapagos you will discover that Galapagos Island animals are not afraid of people, where giant Galapagos tortoises bob heads to strangers where...
Latin Tour
Nemo I and Nemo II are owned and operated by Latin Tour. We are a family owned and operated business with a well earned reputation backed by more than 15 years of satisfi...
Queen of Galapagos
We own a luxury motor yacht catamaran Queen of Galapagos we want see if you are interested to start business with us. We want to be part of your yacht charter fleet. S...
Myths and Mountains
Everything your eyes see will be forever locked in your memory. Imagine walking among blue-footed boobies, frigates and flamingoes, marine and land iguanas, sea lions and...
Butterfield and Robinson
Expect the amenities of a fine boutique hotel, anchored just a short stroll (or swim) from the cliffside village or secluded beach you discovered that afternoon. Let curi...
Ecoventura
An ecological adventure in the Galapagos Islands.
Galapagos Charters
Galapagos Islands crewed yacht charters service for tours & cruises
Geographic Expeditions
Cruise the Galapagos Islands in style aboard the new luxury yacht La Pinta. Extend your Galapagos Tour and visit Machu Picchu.
Inti Travel and Tours
Tours, Boats, Cruises and Yacht Charters in the Galapagos Islands, Ecuador.
Metropolitan Touring
Ecuador and Galapagos Tour Operator
Only The Best Travel Agency
Electrify your spirit with a spectacular, out-of-the-ordinary vacation. When it comes to an unforgettable experience in awesome places, you deserve Only The Best Travel....
Quasar Nautica
Tour Operator in the Galapagos Islands for over 18 years Owner and Operator of luxury and upscale sail and motor yachts ranging from 12 to 16 passengers and an expedi...
Galapagos Luxury Charters
Tom Collins Yachts Worldwide
Tom Collins Yachts Worldwide has been successfully booking yacht charters for over 20 years and has earned tremendous respect throughout the international yachting commun...
Yacht Gannet
Yachting Adventures
It is often said that Chartering is the best kept secret in the travel industry. Yet those who have chartered come back again and again. Chartering is the combination of...
Galapagos Voyager