Charter Quote Finder
We'll find the best quotes for your exact requirements:


Some photographs of South Adriatic: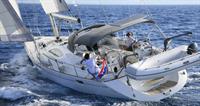 South Adriatic Croatia yacht charter
Croatia Yachting
Croatia Yachting is leading charter broker and Croatia yacht charter offering motor yachts, sailing boats, catamarans, mega yacht charters and gulets in Croatia. bareboat charters, crewed Yacht charter and corporate yacht charters in Croatia. Our charter fleet is mostly privately owned and we keep high standard of quality, maintenance and yacht preparation to make both owners and charterers satisfied. Croatia Yacht Charter company, Croatia...
Svibor Yachting
We offer Beneteau sailboat for charter in Croatia. Choose one of best sailing boats and start your sailing adventure from Kremik, ideal starting point whether you choo...
Cro Yachting
Cro Yachting is a yacht charter company based in Split, Croatia. Our vast experience in the nautical field combined with our dedicated staff of skilled young enthusia...
Seafarer Sailing Holidays
Seafarer Cruising & Sailing Holidays are specialists in yachting and yacht cruise holidays. Our flotilla holidays operate in Greece, Croatia & Turkey featuring quality ya...
Adriatic Prestige
Yacht Charter company dedicated to premium service when it comes to luxury yacht charter in Croatia. Located in Split, in the middle of Eastern coast of Adriatic Sea, rig...
Adriatic Yacht Charter
If you've chartered with us before, then you know that nothing is more important to us than your cruising safety and comfort. If this is your first charter, let's get aqu...
Euromarine
Operating a fleet of about 90 boats from bases (Pula, Biograd, Split and Dubrovnik), we offer one-way charters between any of above mentioned bases, mini-bus transfers fr...
MiramoClub
Miramoclub Internet agency is a logical continuation of the development strategy based on long experience of managing Adriatic charter bases. systematic research of the n...
Royal Eagle
Charter a Motor, Bareboat or Crewed Yacht from Royaleagle Yacht Booking online system. The perfect combination of technology and tradition makes your sailing in Greece...
Acantho Travel Agency
The biggest choice of charter sailing boats, catamarans, motor boats, luxury yachts and cruising vessels on Croatian coast and Mediterranean. Find the boat that fits your...
Classic Charter
Classic Charter has put together a unique collection of classic yachts for the discerning charterer who would like to experience sailing on historic yachts. We presently...
Orvas Yachting
Orvas Yachting is the charter that has 22 sailboats and 2 motor boats in its fleet. Orvas Yachting is based in ACI Marina Split. Within the marina there is a reception de...
SilverSail Croatia
Silver Sail Ltd. is a modern, professional company specialized in the yacht charter. Our mission is to deliver excellent, well organized, tailored charters on best availa...
Villegagnons Plaisance
VILLEGAGNONS-PLAISANCE is the leading french company of gulet charter. 500 gulets are available for charter in 12 destinations. Gulet charter Turkey, gulet charter Croati...
Adria Yachting doo
Adria Yachting provides yacht charter in Croatia with our gulet Algarina. She is 25 meters and can accommodate up to ten passengers in five double cabins. Algarina is bas...
Arcobaleno Tours
Arcobaleno Tours Company Ltd. has been founded in 1994 in Povlja on the island Brač and since than is active in different tourism services. We own three small hotel...
Balun Aydost
For working and touristic reasons, we have been visiting the wonderful land of Croatia for many years; its enchanting landscapes and clear sea hide treasures and secrets...
Croatia Yacht Charter
Croatian exceptionally-indented coastline and over a thousand islands are a renowned sailing destination, but still largely undiscovered by the foreign charter agencies....
Fortuna Cruising
Fortuna Cruising is a private Croatian company established in 2001, started with chartering one yacht that was in its ownership and since then, our professionalism, respe...
Gala Yachting Croatia
Gala Yachting is a young and perspective agency established to provide you a best possible arrangement in a private or corporate charter. Our experienced team of yacht...
Hinco Yachting
We are the sailing company from Slovenia with our partner base in marina Mandalina in Sibenik (Croatia). We can offer you the following boats from our fleet: - Sail...
LDNB Global Co
Luxury crewed, skippered and bareboat charter on catamarans, Gullets Sailing and Motor yachts available for bareboat and crewed charter in the Mediterranean, the Caribbea...
Marinea Yachting
Marinea yachting is a department of Marinea Ltd offering bareboat yacht charter, flotilla sailing and luxury crewed yacht charter in Cape Verde, Croatia, Greece, Italy, S...
More
Super Yacht charter specialist in Adriatic and Worldwide.
OceanBlue Yachts
UK based Specialist for Bareboat & Skippered Sailboat & Catamaran charter and Fully Crewed Luxury Yacht charter in Croatia, Italy, Sicily, Sardinia, Corsica, South France...
Aventura Plus Yacht Charter
Quality Yacht Charter and Sailing Holidays. From 36' to 60' bareboat and skippered yachts. Budgets Economy, Business and VIP. Specialised in theme arrangements: like gou...
BavAdria
Bunaca Cruising
Dream Journey Yachting
More then 1,000 bareboat and crewed yachts for charter. Perfect choice of luxury yachts, motor boats, catamarans, sailing boats and gulets for a perfect holiday at sea. W...
Katarina Line
Katarina Line travel agency is based in Opatija, Croatia and has a branch office in Opatija and in Split. We have been working successfully for the past 15 years, provi...
Navigo Event Ltd
Navigo Event provides professional service for chartering crewed gulets in Croatia and Turkey. We will help you find the perfect yacht and organize your cruising vacation...
Sail Croatia
Tailor made sailing holidays in Croatia.
Smart Yacht
Smart Yacht provides luxury yachts for shared boat ownership. It also provides all season yacht management and crews the fractionally owned yachts upon request. SmartYach...
Yachtcharter Connection
Yachtcharter-Connection is an agency for online yacht charters worldwide - it offers easy yacht search, online-booking possibility and professional advice. Yachtchart...
Bareboat Sailing Holidays Ltd
The Ionian Islands of Greece remain Sailing Holidays' spiritual home and are just as beautiful as the first time we went there. The welcome is as warm as ever and the atm...
Caicco Resort
Caicco Resort operates two luxury gullets based in Bay of Kotor, in Montenegro. You have a chance to enjoy the beautiful coast of Montenegro, the Adriatic coast and islan...
Croatia Holidays Charter
Specialize in yacht charter and will help you organize your sailing holidays in Croatia. We offer a wide range of sailing boats, catamarans, motor yachts as well a cruisi...
Dalmatian Destinations
Dalmatian Destinations is a specialist high end travel company that provides fully crewed boats in Croatia. As our clients have very exacting standards of service we prid...
DR Yachtcharter
DR Yachting offers Motor Yachts and Sailing Yachts in Croatia, Italy, Montenegro and World Wide Charter in all destinations.
Gacina Adriatic Charter
Goolets doo
Goolets LTD are a travel agency specialized in gulet blue cruise in Croatia, Turkey and Greece.
Seamaster Yachting
Seamaster Yachting has been formed by a group of people that believe that a sailing holiday should be easy, fun and accessible to all. After working for years in the indu...
Turisticko ugostit Obrt Przina
Over 20 year of experience in yacht chartering and tourism. Beautiful classic schooner "Fortuna" 33m long is providing best catering and service for weekly cruising a...
Beluga Fleet
Luxury MINI cruiser and Scuba Diving Liveaboard, in Croatian Adriatic - central booking online!
Charterwelt
Jadria Yachtcharter
Mediterranean Experience DMC
Mediterranean Experience DMC provides inspiring event solutions for corporate events and manage conferences, meetings and team building in Dubrovnik and across Croatia.
Navigator Dubrovnik
Navigator is Dubrovnik's premier yacht charter company, offering unmatched quality, service and attention to detail. We have the most desirable yachts that you can find i...
Adria Luxus Yachtcharter
There is no better way to appreciate the Croatian Adriatic than by yacht. The long chain of rugged islands off Croatia's mountainous coast make this a cruising haven that...
Hera