This information is provided by Seven Seas. Please confirm all details direct with them prior to booking. Yachting Limited neither endorses Seven Seas nor guarantees the accuracy of this listing.
Please
let us know
if any details are incorrect.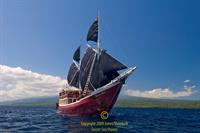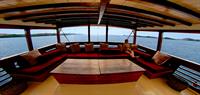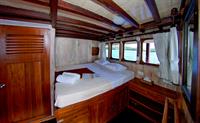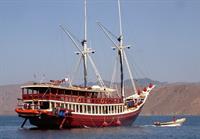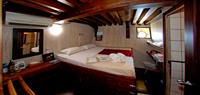 Seven Seas
The Seven Seas is a 40 meters LOA, traditionally built Indonesian sailing schooner and has set new standards for luxury adventure charters in Indonesia. Custom-designed to comfortably accommodate up to 16 guests in spacious comfort in 8 state rooms with en-suite bathrooms, she is perfect for cruising, island hopping, diving and relaxation. The Seven Seas features the latest diving and safety equipment, 3 speed boats and satellite communication, all of which means that we can sail where we want in comfort and in confidence. This ship and its operations are run by a wonderful Indonesian crew of 14 plus 2 Western Cruise Directors, all of whom are very experienced, well trained, professional, attentive and safety conscious. What we promise is a high quality adventure holiday, mixed with diving, snorkeling, sea kayaking, fishing, beach parties, relaxation and a unique opportunity to enjoy onboard spa treatments. An amazing adventure Holiday at great value! Charter Locations: Indonesia, including Bali, Nusa Tenggara, Komodo, Alor, Banda Islands, Raja Ampat, Papua, Sulawesi, Wakatobi and more.
The Seven Seas is a spectacular yacht built from the finest Indonesian ironwood. Beautiful and functional teak furniture in the main lounge and cabins, and multiple shaded lounging areas on the upper deck ensure an extremely comfortable cruise. The Seven Seas has twin masts that are rigged with 7 sails in the traditional Buginese Phinisi style. In a stiff breeze she sails with a maximum speed of 5 knots. Alternatively, the 450hp diesel engine ensures she makes her destination, cruising at a comfortable 7 to 9 knots, depending on currents and weather. The Seven Seas is based in Bali, Indonesia, and is fully insured for hull and passengers. Cruise itineraries are possible throughout Indonesia, focusing mostly on the stunning islands and coral reefs of the East.
The rooms, main dining room, and deck areas are all wonderfully arranged. The Seven Seas currently features four double & four twin state rooms in which we can accommodate a maximum of 16 guests. All bedrooms are finished to a high standard and come with king size beds in the doubles and large single beds in the twins. The en-suite bathrooms have powerful hot and cold water showers, hot and cold water wash basins, full sized WC and hairdryer. The main lounge and inside dining areas is fully air-conditioned but all windows can be fully opened to let the breeze through, which is usually the nicest experience. Two double cabins are situated on the upper deck, commanding panoramic views from the windows. A shaded lounging area aft on the upper deck, as well as shaded lounge beds in front of the wheelhouse are great areas for sunsets and cocktails. The spacious dive deck, multiple compressors, fully equipped dive shops, comfortable speed boats and first rate dive guides promise you a World Class diving experience and 6 double sea kayaks are available for further adventures. The state-of-the-art galley serves mouth-watering buffets & a selection of fine wines to complete the experience.
Seven Seas Specifications: Type/Year: "Phinisi" Schooner–2006. Length: 40 meters LOA. Beam: 8 meters. Crew: 14 Indonesian. Cruise Directors: 2 Western. Guests: Maximum 16. Cruising Speed: 7 knots. Maximum Speed: 9 knots. Guest Cabins: 8. Engine: 8M22 450HP V8. Tonnage: 250. Water Making Capacity: 9 tons per day. Fuel Capacity: 18 tons. Full Air Conditioning: All indoor guest areas. Entertainment System: DVD, TV, Stereo sound. Fibre Tenders Boats: 2 x twin-40hp 6.5m. Inflatable tender: 1 x inflatable single engine. Communication: Satphone, SSB, VHF. Navigation: Radar Furono, Sat Nav. Furono, Sounder RayMarine, Back-up GPS plotter: Navman Tracker. Safety Equipment: 2 life rafts (20 persons each), 40 adult and 10 infant life jackets, AED (Automated External Defibrillator), EPIRB (Emergency Beakon). Dive Equipment: Twin 9 CFM compressors (Schiffauer), 28 aluminium 12lt tanks, 16 sets rental dive equipment, snorkeling gear, wet suits, Nitrox available. Additional: Full First Aid Kit, Deck Showers, Full Service Bar, Library.
Locations
| | | |
| --- | --- | --- |
| | Indonesia | |
Services
User Reviews
Our 7th trip this summer and we can't wait! The crew, dive masters and chef are outstanding and it is the best family holiday we have. For non divers it a wonderful adventure and a chance to visit 'The Wild East'.
Review by David Forbes. Sailed on 26 August 2010.

The Sevenseas management knowledge of Indonesia is key to propose terrestrial trecks, villages visits, nature & animals observations.
the schedule and space booked 1,5 year in advance!
Review by Delisle Lionel. Sailed on 21 May 2010.

Fabulous organization throughout. I found that their knpwledge of the region was superb and all activities were well worth it. We have chartered from them 3 times and each time we are amazed at what we see and experience.
They are always booked up and it is not easy to get the dates one wants unless you book well in advance.
Review by Hani AlMalki. Sailed on 21 April 2010.

Everything with this company has been outstanding, I did 3 charters with them, they are extremely professional, have a perfect knowledge of the places, dives sites they took us to. The crew is very professional and friendly.
Review by Reda Habour. Sailed on 21 April 2010.

Everything. Best trips I have ever done are with them. Amazing crew, outstanding food, great boat, knowledgeable dive leaders, etc.
Nothing to dislike about this company. I would change something about but the boat. We found ourselves in the most beautiful, serene places on earth but always had the sound of the generator. Anything to allow for some silence would be lovely.
Review by Kevin Contreras. Sailed on 2 April 2010.

Jos and the Seven Seas were very easy to work with. We were guests on one cruise and then chartered it ourselves. We have now chartered it again. The boat, a typical Pinisi style, has extra touches touches that provide superior comfort.
They ran out of Tim Tams :)
Review by George Vincent. Sailed on 3 March 2010.

Everything, the best live aboard dive vessel we have ever been on and we have been diving passengers on over 100 at least.
There was nothing to dislike. It was a fabulous trip.
Review by Valerie Taylor. Sailed on 3 March 2010.

Attention to every detail and safety. Friendly, non intrusive but helpful crew, Adventurous trips, Professional.service Comfortable spacious boat. Good food. Fun and safe diving as well as other excellent and well organized land excursions.
Sometimes difficult to get a booking as they are so popular!
Review by Jane Hawkins. Sailed on 14 February 2010.

Good food and comfortable cabins. Professionally trained, non intrusive staff. Good choice of locations. Flexible itinerary to go with the weather. Good alternative sports for non divers. (kayak, fishing, trekking)
Review by Peter Decker. Sailed on 14 February 2010.

Seven Seas floats comfortably at the top of the heap among boats offering scuba diving and ocean adventure cruises in Indonesia, She's a beautiful ship, crewed by friendly hardworking professionals who consistently deliver superb, safe diving. Bravo!
Review by Brandon Cole. Sailed on 1 February 2010.

From her Indonesian keel and crew to the considered accommodations, the Seven Seas uniquely combines character and comfort. A great way to spend time between dives.
Review by John Gates. Sailed on 17 January 2010.

Terrific vessel, excellent crew and staff, extremely knowledgeable about the area, & conservation focus. SS team easy to work with and flexible to our groups' interests. Our travelers were very impressed. Definitely the best charter in the area.
Review by Sally Zink. Sailed on 9 January 2010.

It is clear from the moment you step on board this ship that it was designed by people with long experience with adventure cruising - everything is how it should be! And the crew is among the best I've ever sailed with - a stellar charter experience!
Nothing really to not like about the Seven Seas - except that it will be another 10 months til I'm on her again!
Review by Mark Erdmann. Sailed on 3 December 2009.

Very good and comfortable boat, competent crew, excellent food, interesting itineraries. Diving taking place from two dive boats where the gear stay for the whole trip so that there's no need to carry cylinders up and down.
Fairly expensive and nitrox not included in the price in my first trip (but will be in the next, which incidentally shows I really enjoyed the experience as I will be back in numbers with a group of friends)
Review by Aurelio Martegani. Sailed on 3 December 2009.

A happy crew, helpful and extremely knowledgeable about the sites we dived and places visited. Eager to please and ready to tailor outings to the interests of the group. Nothing seemed too much trouble. All functioned well; food excellent
Review by Rod Salm. Sailed on 2 November 2009.

Very well-set up and maintained vessel, highly competent and well-trained crew, in a locale where corners are too often cut. Dive staff extremely knowledgeable, cabins comfortable, meals excellent. The best live-aboard operating in Indonesia.
The separate charge for nitrox was an irritation. However, I understand this charge for nitrox will be abolished from 2011 on. The vessel may be getting too well-known. No other problems or issues.
Review by Robert Delfs. Sailed on 15 October 2009.

Friendly & attentive staff. Also, the flexible & interesting activities - dinner beside an active island volcano, swimming in mysterious limestone caves, seeing traditional dance in Banda. All three trips with Seven Seas have been fantastic.
So far as I've experienced, here's nothing not to like. I'd take another trip with them anytime.
Review by Craig Kirkpatrick. Sailed on 15 October 2009.

The excellent crew of this luxurious dive live-aboard brought us to the best dive spots of Komodo National Park at the most optimum moment when the currents were right. Local knowledge is key to a great trip and Seven Seas HAS this knowledge.
Review by Juergen Freund. Sailed on 6 August 2009.

Seven Seas was a highlight of our life. The Owners and crew ensured every comfort. The experiences and activities from watching live volcanos, snorkling, cultural tours, kayaking and diving were awesome. We have chartered the boat for another month!
2 weeks was too short.
Review by Peter Richter. Sailed on 1 May 2009.

We chartered Seven Seas for five weeks during the underwater production of an IMAX movie. The boat is beautiful, it's spacious, the crew is professional, and everything worked perfectly. It was a wonderful choice and a wonderful trip.
There was certainly nothing not to like.
Review by Howard Hall. Sailed on 29 September 2008.

The unrelenting attention to detail: the best dive sites, amazing villages, nice food and drinks, the boat is super comfortable, shaded decks, spacious cabins, the crew is always there, yet never intrusive. A great ship to explore east Indonesia!
Review by Benjamin Kahn. Sailed on 16 July 2008.

Great boat, terrific crew and some of the world's best diving. My organization, Seacology, chartered the 7 Seas to visit our projects in extremely remote locations. The crew was extremely accommodating in arranging these off the beaten path visits.
Not sufficient flexibility to change built in queen beds to two singles in every cabin. That said the Seven Seas is excellent and I highly recommend it.
Review by Duane Silverstein. Sailed on 10 October 2007.

The boat is extremely comfortable, the food is delicious, and the crew is fantastic. It's a wonderful cruise for divers and non-divers alike through a most beautiful part of the world.
Review by Lynn Morton. Sailed on 16 July 2007.

The boat is not only beautiful but so comfortable. The crew is helpful and very knowledgeable. Their attention to any dive needs or non-diving is terrific. The massage is splendid! The food delicious. Top notch operation in an amazing location.
Review by Diane Buhler. Sailed on 1 July 2007.

Friendly crew! Good service! Awesome boat and food! Everything is so well organized. Looking forward to having another trip with Seven Seas!
Review by Erwin Kodiat. Sailed on 17 February 2007.

Contact Seven Seas