This information is provided by Indo Yachts. Please confirm all details direct with them prior to booking. Yachting Limited neither endorses Indo Yachts nor guarantees the accuracy of this listing.
Please
let us know
if any details are incorrect.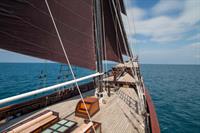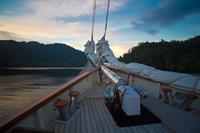 Indo Yachts
Indo Yachts: The First Indonesian Superyachts
Each yacht has its own soul and distinct character yet they all share a lineage from the precious woods of Kalimantan and Sulawesi.
Their riggings are labors of love that when under sail evoke the romantic ambiance of a bygone era.
Outfitted with every conceivable modern amenity, these are adventure superyachts providing a breathtaking fusion of old and new. For exploring the most remote and diverse natural habitats on Earth, they offer the most exceptional means of travel in supreme comfort.
Inspired by the Archipelago
The yachts were built by experienced sailors enamored with the traditional Indonesian phinisi design. The builds themselves are adventure stories in their own right. The ironwood hulls drew on lifetimes of experience to take shape then emerged as the foundations for a new style of superyacht unique to Indonesia.
The yachts are fitted with schooner and ketch riggings allowing unusual stability at sea. The engineering systems provide the capacities and redundancies to cruise uninterrupted to as far as one's heart desires. They are the ultimate tools for experiencing adventures in the most remote regions in Southeast Asia.
Indo Yachts Provides Specialized private yacht charter services for exploring Indonesia
Charter Specialists
We work exclusively with the elite tier of wooden sailing yachts in sparsely populated regions of the Indonesian archipelago and beyond.
Our firsthand experience with the yachts and destinations shows through in our meticulous attention to detail, custom itineraries and expert advice.
Broker Services
The yachts we work with include our services as part of your charter at no additional cost to you. In this relationship, you are the client.
We exist to represent your best interests through all stages of your yacht charter experience.
Travel Support
We are locally connected with a global perspective on yachting service standards.
From the planning stages through the completion of your charter our travel support services make the very best of the region easily accessible and add an additional layer of service for your charter.
Locations
| | | |
| --- | --- | --- |
| | Indonesia | |
Services
User Reviews
Although you are welcome to submit your review Indo Yachts have specified that they would prefer that their reviews are not displayed on the site at the moment.
Contact Indo Yachts