This information is provided by Canyon Motoryachts. Please confirm all details direct with them prior to booking. Yachting Limited neither endorses Canyon Motoryachts nor guarantees the accuracy of this listing.
Please
let us know
if any details are incorrect.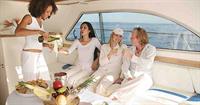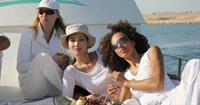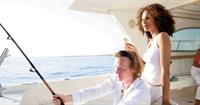 Canyon Motoryachts
To the very doorstep of Civilization's earliest Beginnings…
To some of Earth's most beautiful Nature Reserves…
To Secluded, Sheltered Moorings…
and the Simpler Pleasures of Life.
"And the Sea will rend each Man new hope,
As sleep brings dreams"
-- Christopher Columbus
"Come, my friends, 'Tis not too late to seek a newer world"
-- Lord Alfred Tennyson
Canyon Charters provides fully crewed Motor Yachts, Sports Fishing Yachts, Off Shore Boats and Sports Boats for charter.
Our cruising area of predilection is the Red Sea from the Gulf of Suez in the North, to Aqaba in the East, Egypt's Southern Red Sea and to the waters off Sudan.
Perfectly maintained, and crewed by experienced and professional crews, our yachts and boats are the perfect settings for outstanding vacations.
A Certain Concept of Luxury
Our yachts cater to those seeking an active, fun-filled holiday. They marry warmth, intimacy, style and human scale with professional management.
Our yachts can take you to the very beginnings of time and history, to set foot where few others have before, to see nature as it was meant to be, and to develop a new appreciation for the world we live in.
They are outfitted with a complete set of equipment depending on the principal activity you intend to carry out during the charter: cruising, sportsfishing, diving…
Tenders, diving and snorkeling equipment, fishing equipment, water skis, windsurfs and other water toys—and, on at least one of our yachts, a whirlpool spa—are available for your enjoyment.
Your Yacht
Whichever yacht you charter from us, this is Your Yacht, and the mood yours to set.
Our yachts are manned by professional crews who provide service that is always attentive, friendly and cheerful—never intrusive.
They are a team of motivated individuals, proud of their service and proud of their yachts—committed to making your vacation unforgettable.
Fun
A crewed charter is a boating vacation where you let yourself be pampered, with the added thrill of waking each morning in different surroundings—effortlessly.
Easy
A Canyon Charter is easy. We take all the hassle of operating a yacht away leaving you to simply lay back and enjoy a great experience.
Standards
We work hard to make your time on one of our yachts or sports boats, the best vacation you ever had.
Ports of Call
Our yachts will moor in turquoise lagoons, on the lee side of coral reefs, and out-of-the-way bays, often with golden beaches and nary a tourist in sight.
Locations
Services
User Reviews