Charter Quote Finder
Allow us send find the best quotes for your exact requirements:



Some photographs of South Coast: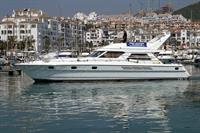 South Coast Fractional Ownership in Spain
Super-Yacht Cruises Ltd
Bespoke private luxury cruises on-board 110 feet length super-yachts, sailing from Gibraltar (Costa del Sol, Morocco, Marbella, Seville, Malaga, Tangier, Algarve). www.Su...
1st Choice Sailing Ltd
Based in Albufeira Marina. Skippered charter from Albufuria Marina in the Algarve. Day sails, weekend breaks, 5/ 7 day holidays or mile builders to the Med. 3 dou...
MedBoat
Celebrating a special occasion, or simply wanting to do something different? See the Mediterranean coastline and beyond and charter a luxury motor-cruiser or yacht. W...