Charter Quote Finder
Allow us send find the best quotes for your exact requirements:



Some photographs of South Coast: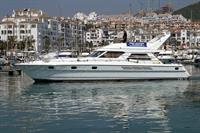 South Coast Yacht Charter Company in Spain
LDNB Global Co
Luxury crewed, skippered and bareboat charter on catamarans, Gullets Sailing and Motor yachts available for bareboat and crewed charter in the Mediterranean, the Caribbean, Seychelles, Thailand, French Polynesia, Cape Verde and Baltic Sea. We provide tailored and competitive service with the hope to establish long term relationship with our clients. Yachts available in: 1. Croatia Locations: Dubrovnik, Baska Voda, Island Hvar, Krvavica, Kastela, Trogir, Split, Rog...
Palmayachts
Palmayachts born of a passion. The passion for the sea, sailing, the fresh air, the sound of the wind and sea passing through the hull, sliding the waves, to see the land becoming smaller as we move away from the coast and see it back again after a few days. We want to be a reference in the nautical tourism in Portugal and that our customers have fun, experience the thrills of sailing and fall in love with this great activity, just like us.
Blue Guru
Luxury yacht charter in Mediterranean & Caribbean. Sunreef 70 Sailing, Sunreef 62 Sailing & the new Sunreef 70 Power !!
Super-Yacht Cruises Ltd
Bespoke private luxury cruises on-board 110 feet length super-yachts, sailing from Gibraltar (Costa del Sol, Morocco, Marbella, Seville, Malaga, Tangier, Algarve). www.Su...
The Charter Company Sp zoo
We are pleased to offer you the brand new Rodman Muse 50 in the area of Puerto Banus / Marbella in Spain. Our offer is addressed to people who want to relax with famil...
Luxury Sailing Charters
Come sailing with us from Marina del Este, La Herradura on the Costa Tropical, southern Spain aboard our luxury ocean-going yacht - a Catalina Morgan 45. Full day, half d...
Attention To Detail
Attention To Detail is one of the most respected names in the field of Corporate Yacht Charter. Our reputation and high level of commitment has led to our working with ma...
e-sailracing
Regatta Events: Participate in the Spanish IMS championship (class C or 600) with a competitive boat and race with professional teams at exciting locations and great ven...
SunJam Sailing Vacations
Adventure Sailing for all skill levels.Prices include skipper, fuel, mooring, dinghy, light breakfast & lunch. Basically all is included except for Your flights and eveni...
36 Degrees Sailing
We offer sailing yacht charters, corporate hospitality and team building events out of Marina Bay in Gibraltar. We are a small company and are able to tailor any of ou...